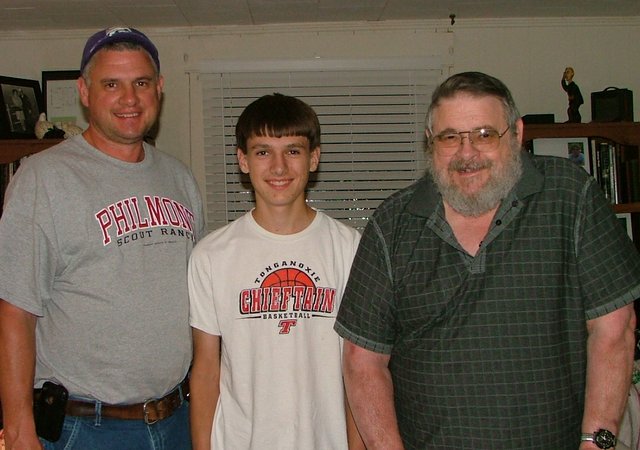 Burt Morey, left, and his father, Jim Morey, right, are Eagle Scout award-winners. Brett Morey, middle, Burt's son and Jim's grandson, will continue the family trend when he receives his Eagle Scout award, along with four other Tonganoxie boys, at 5 p.m. .Saturday during a ceremony at VFW Post Home 9271.
Stories this photo appears in:

Retirement reception is Wednesday
Jim Morey's relationship with the Tonganoxie Public Library started when he was just 8 years old. "I've had a profound love and interest since the time I was a little kid," he said. "I can remember very clearly picking up my library card. I was 8 years old and was really proud of that."
November 17, 2015 9:16 a.m.

Bingo, 'thankful' cards, Santa's workshop also planned
Longtime Tonganoxie Public Library employee Jim Morey will be recognized for his work at the library with a retirement reception. Patrons can stop by from 4:30-6:30 p.m. Wednesday, Nov. 18, to help Morey celebrate his retirement.
November 12, 2015 1:33 p.m.

3rd generation Scout to receive Eagle Scout award with 4 fellow troop members