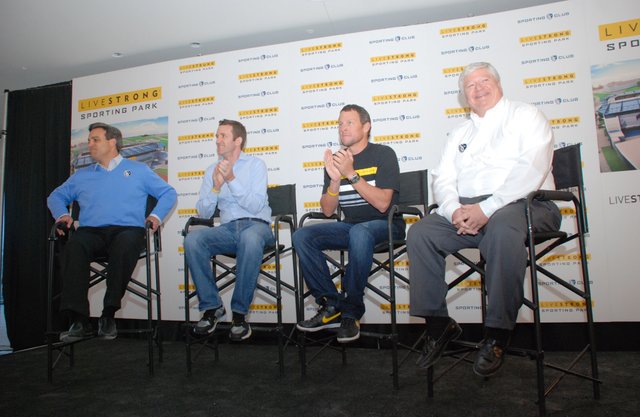 From left, Sporting Kansas City CEO Robb Heineman, Livestrong president and CEO Doug Ulman, cyclist Lance Armstrong and Sporting Kansas City co-owner Cliff Illig were all smiles at a press conference Tuesday announcing the naming of the soccer club's new stadium as Livestrong Sporting Park.
Stories this photo appears in:

Thursday's revelation that Lance Armstrong would be stripped of his seven Tour de France titles amidst allegations of doping will not affect the naming rights of Sporting Kansas City's stadium, CEO Robb Heineman said on Friday.
August 24, 2012 4:12 p.m.

Kansas City's Major League Soccer franchise is still in the early days of its rebranding effort as Sporting Kansas City, but the club hopes to get a boost from a new partnership with one of the most powerhouse brands in the world.