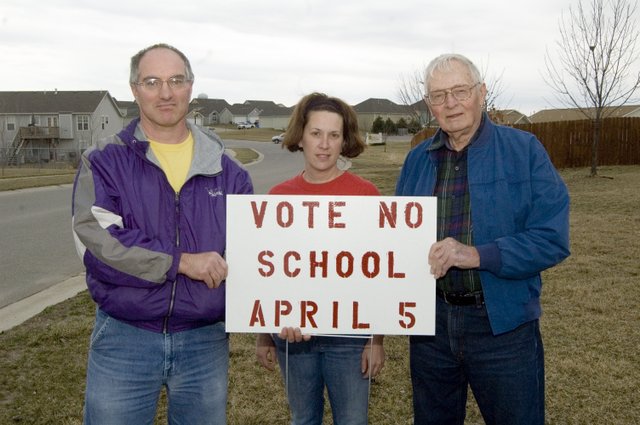 From left, Dale Woodyard, Gretchen Busche and Lester Meinert hold a sign expressing their opposition to USD 464's bond issue. Among the group's planned activities is an informational meeting 3 p.m. Saturday at Tonganoxie VFW Post 9271. USD 464 Superntendent Kyle Hayden has been invited to give the district's informational presentation on the $26.9 million bond proposal at the meeting.
Stories this photo appears in:

School bond defeat readers' pick for year's top local story
The calendar soon will read "2012," but before we enter the new year, here's a look back at the top stories, as determined by Mirror online readers. Readers selected the top five stories from a list of 10 stories Mirror staff nominated. Here is a closer look at the top five stories:

Opposition group joins school bond discussion
Despite joining a group working to defeat Tonganoxie USD 464's proposed $26.9 million bond issue, Gretchen Busche agrees a new school is needed.