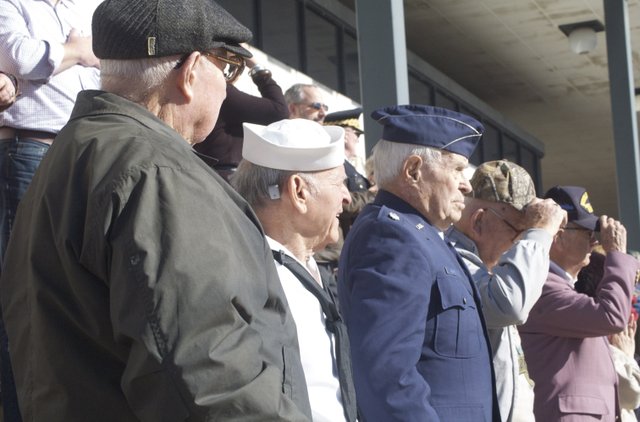 World War II veterans, at the reviewing stand at the Leavenworth County Veterans Day Parade, stand after saluting a color guard in the parade in downtown Leavenworth on Friday, Nov. 11. Pictured are, from left, retired Army Lt. Col. Harry Davis of Leavenworth; retired Army Col. B.B. Albert Jr. of Parkville, Mo. (who served in the Navy during WWII); and retired Air Force Lt. Col. Bill Adams of rural Leavenworth. Many parade participants stopped in front of the stand to thank the veterans there for their service.
Stories this photo appears in:

Tonganoxie will celebrate Veterans Day with a Veterans Gala on Saturday. The event will be 4-7 p.m. at Tonganoxie VFW Post Home. Vintage Park and Crossroads Hospice and Palliative Care will honor the military this Veterans Day. They will be hosting a night of food, drink and entertainment at the VFW Post Home.

An event tabbed as the oldest Veterans Day observation in the nation and largest parade west of the Mississippi River will take place Monday in downtown Leavenworth.

World War II veteran BB Albert Jr., at 87 years old, attended the oldest Veterans Day parade in the nation for the first time in his life Friday.
November 11, 2011 4:14 p.m.