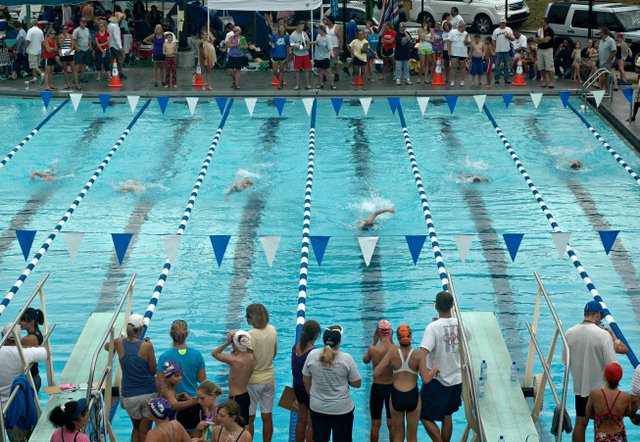 For the first time in team history, the Tongie Tidal Waves hosted the Eastern Kansas Swim League championships Friday at the Tonganoxie Water Park.
Stories this photo appears in:

The Tongie Tidal Waves concluded yet another season with the league championships June 30 at Tonganoxie Water Park. Unfortunately, younger swimmers didn't get to complete their league championship races because of inclement weather June 29. The Tidal Waves still at an awards night this past week. "It's hard to imagine that our swim season has come to an end," said coach Janet Falk. "However, all of the swimmers and families are excited and looking forward to returning next summer for another fun-filled season."

The Tongie Tidal Waves finished the season with league championships Friday. Inclement weather canceled Thursday's planned competetion for youths ages 5-10. However, the 11-18 divisions were able to compete Friday as planned.

The Tongie Tidal Waves swim team capped off the 2012 season in familiar territory last week, finishing fourth at the East Kansas Swim League championships last Friday at the Tonganoxie Water Park.