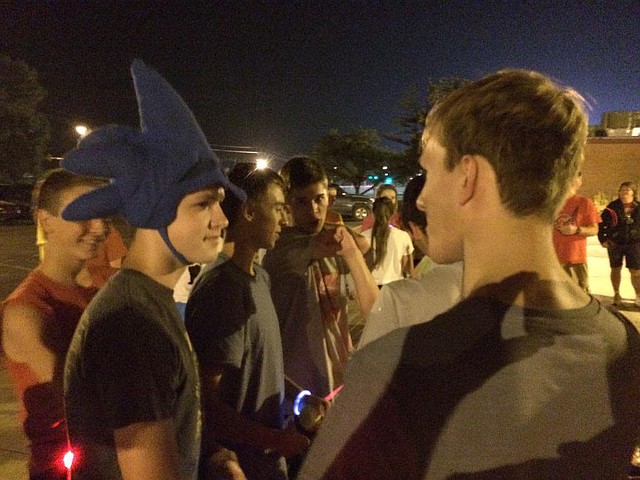 Tonganoxie High cross country runners wear costumes for their first practice of the year in 2015. The team has practiced at 12:01 a.m. the first official day of preseason practice the last several years. All THS fall sports teams are starting practice at 12:01 a.m. Monday this year.
Stories this photo appears in:

And so it begins. One of the first signs that summer vacation is drawing to a close is the start of fall sports season. KSHSAA teams can begin practice Monday. And, as has been customary in Tonganoxie in recent years, Tonganoxie High teams won't be wasting any time, as teams will start their first practice at midnight Monday morning. For the THS cross country team, the season will start gathering at the high school and then going for a run around town. Parents and other volunteers post up along the route to make it a safe route in case there is traffic. And of course, the runners will be hitting the pavement in the dark. Monday starts the 2017 season for THS cross country, football, soccer and volleyball, as does it for McLouth cross country, football and volleyball.
August 10, 2017 1:39 p.m.

Tonganoxie and Mclouth fall sports seasons soon will be starting. Preseason practices begin across the state Aug. 14.

The midnight madness is catching on in Tonganoxie. The Tonganoxie High cross country team first started the tradition of having the first practice of the new season at 12:01 a.m. on the first day Kansas high school teams can practice, per Kansas State High School Activities Association rules.
August 10, 2016 4:51 p.m.