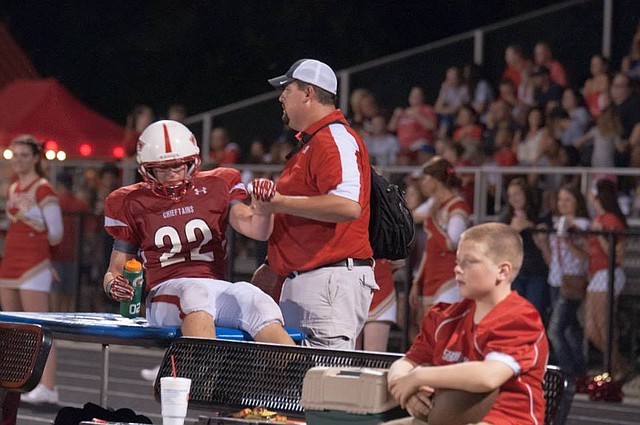 Tonganoxie High athletic trainer Mark Padfield tends to a THS football player on the sideline at Beatty Field in this 2013 photo. Padfield said he won't be using cupping therapy, which has gained notoriety after athletes such has Michael Phelps used it at the Rio Olympics.
Stories this photo appears in:

A school physical night will be offered this summer. The event will be 6-7 p.m. July 18 on the Tonganoxie High School east campus. It's open to all middle school and high school students. Cost is $25, with half of that being donated back to the THS athletic training budget. Physicals will be provided by physicians affiliated with Family Medicine of Tonganoxie and Lawrence Memorial Hospital. The Connor Olson Leadership Fund also will provide some financial assistance to qualifying Tonganoxie families to offset the cost of these physicals.

THS trainer weighs in on therapy craze
Michael Phelps caught the world's attention in Rio with an increasing personal medal count as he closed out one of the most decorated Olympic careers ever. Those discolored circles on his back also caused quite the chatter also. Phelps has been utilizing a therapy more and more athletes are using.
August 20, 2016 8:15 a.m.