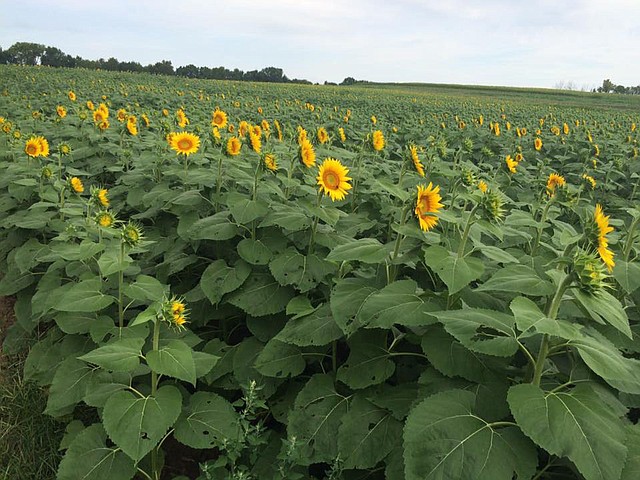 Sunflowers are starting to pop in the Grinter Farms 40-acre sunflower field. Huge crowds are expected to visit the fields this weekend.
Stories this photo appears in:

As I took a friend Sunday to Lawrence, I decided to venture down U.S. Highway 24-40 so we could drive by the Grinter Farms sunflowers and see all of the activity that comes with it. As we got closer and traffic was at an almost standstill, I noticed cars coming from the east on Woodend Road, a gravel road. I thought there must have been a wreck and cars were being re-routed. Nope.
September 6, 2016 6:20 p.m.

Grinter Farms' display leading to other opportunities in area
The main event of 40 acres covered in yellow and green is expected to be on full display — weather permitting — for Labor Day Weekend. The Grinter Farms sunflowers, a growing draw for visitors near and far, are expected to be ready for photo opportunities this weekend, according to Kris Grinter, whose husband has been planting the photogenic crop for some 30 years.
August 30, 2016 4:26 p.m.