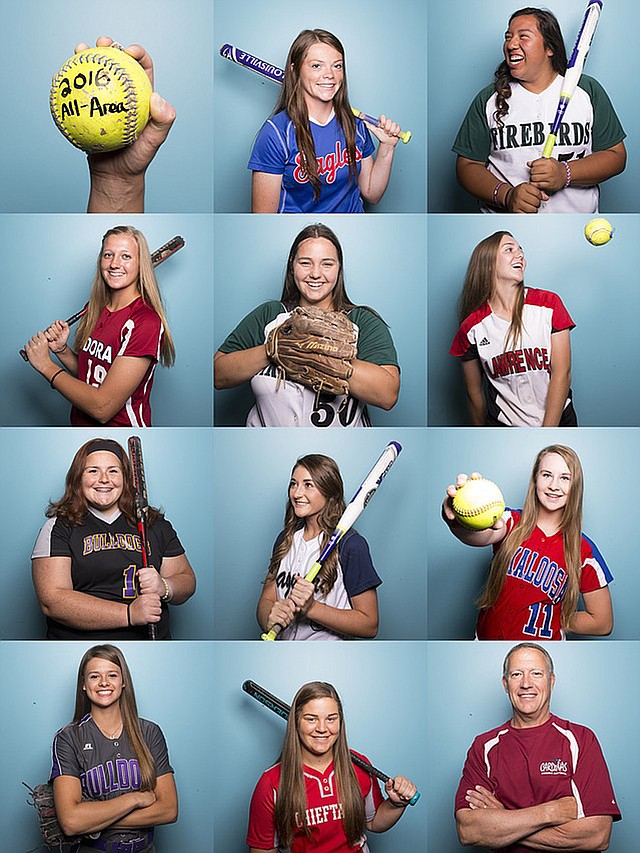 The 2016 All-Area Softball team from top row center, Hannah Pemberton, Wellsville, pitcher; Dacia Starr, Lawrence Free State, left field. Second row left, Jordan Flakus, Eudora, first base; Kate Stanwix, Lawrence Free State, first base; Sophie Taylor, Lawrence High, shortstop. Third row left, Shannon Greene, McLouth, pitcher; Rienna Schriner, Mill Valley, pitcher; Haidyn Bassett, Oskaloosa, pitcher and first base. Bottom row left, Kylee Bremer, Baldwin, catcher and utility player; Audrey Miller, Tonganoxie, catcher, and Bill Finucane, Eudora, coach.
Stories this photo appears in:

Kaw Valley League coaches recognized the talents of Tonganoxie High student-athletes competing in spring sports, but the THS team members also are getting recognized elsewhere in the area. The Lawrence Journal-World recently released its all-area teams, with several THS student-athletes, as well as some McLouth High student-athletes, earning accolades. THS and MHS both landed first-team selections in softball.