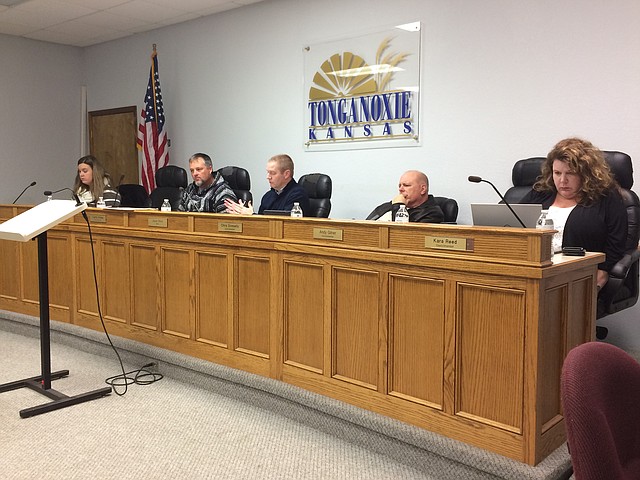 Tonganoxie City Council meeting, Jan. 3, 2017.
Stories this photo appears in:

There's a lot of building activity these days in Tonganoxie. Assistant City Manager Jamie Shockley presented numbers at Monday's City Council meeting. She noted that Tonganoxie leads the county in single-resident building permits being issued so far this year. Shockley said many numbers are encouraging so far this year, including 26 percent of budget estimates have been collected for sales tax. That's up from 13 percent at this time in 2016. Shockley said she wanted to research why that number has doubled from last year.

Tonganoxie plans to continue with improvements at its undeveloped business park, but it will have a new partner in an intelocal agreement. The city had approved an interlocal agreement with the Leavenworth County Port Authority for development of the business park. The county also has pledged $5 million to the park.

The Tonganoxie City Council has denied a church from having a lot in the Urban Hess Business Center. The building, which is owned by Eric Finkbiner, once was a greenhouse and later a motorcycle shop. Finkbiner, who operated the pharmacy at the former B&J Country Mart, had plans for a business in the pharmaceutical company for his building in Urban Hess, but those plans fell through. Finkbiner said he hasn't made much money off a previous tenant, so when the Kaw Valley Church of Christ wanted to come to an agreement on the building, he jumped at the chance.
February 8, 2017 8:38 a.m.