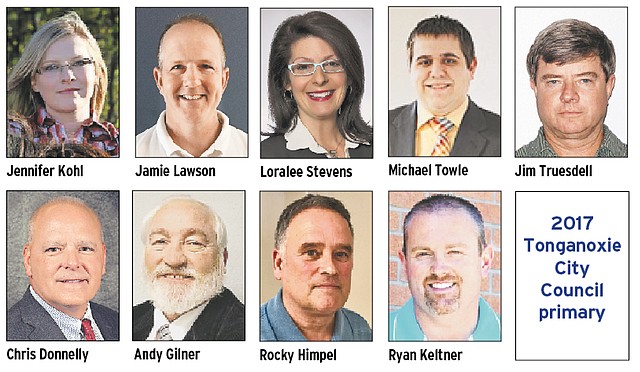 The 2017 Tonganoxie City Council primary is Tuesday. The top six vote-getters will advance to the November general election.
Stories this photo appears in:
The Tonganoxie City Council will have at least one new member, thanks to Tuesday's primary results. Voters selected up to three candidates, as terms for incumbents Chris Donnelly, Andy Gilner and Jim Truesdell are set to expire. The top six candidates out of the 10-candidate field advance to the November general election. Gilner and Donnelly both made the top six, while Truesdell finished seventh in the vote-getting.
Editor's note: The Mirror emailed questionnaires to all active candidates in this year's Tonganoxie City Council primary. Candidates are listed in alphabetical order by last name. Additional candidate responses appear on page 4A. Rachell I. Rowand has dropped out of the race, she told The Mirror last week, as her residence likely won't be annexed into the city anytime soon. Ballots already have been created, so her name will still appear.