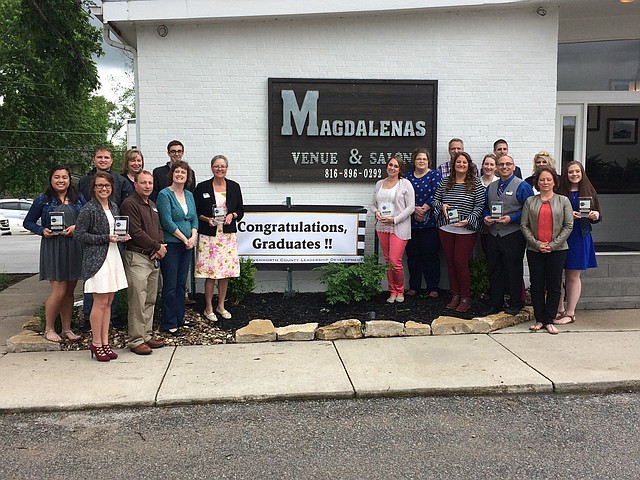 This year's SLCLD graduates are, front row, from left, Savanah Reynolds, Ken Freemyer, Lea Ann Shearer, Linda Sattelhon, Kalie Hileman, Nicole Holifield, Howie Lucas and Teresa Bastron; back row, from left, Rachel Long, Kody Nehl, Glenda Briscoe, Patrick Bircher, Heather Woodyard, Tim Anderson, Alexis Shanks, Dustin Barker, Dawn Carver and Gabi Westrich. Not pictured are Steve Skeet, Britney Smith and Michael McEvoy. SLCLD students were honored Wednesday, May 3, at a graduation luncheon at Magadelnas Venue in Tonganoxie.
Stories this photo appears in:

Area residents ranging from high school seniors to retired citizens gathered last week in Tonganoxie to celebrate their graduation from Southern Leavenworth County Leadership Development. SLCLD graduated 21 Wednesday, May 3, during a luncheon at Magdalenas Venue. Former state legislator and Kansas Board of Regents member Kenny Wilk was keynote speaker.