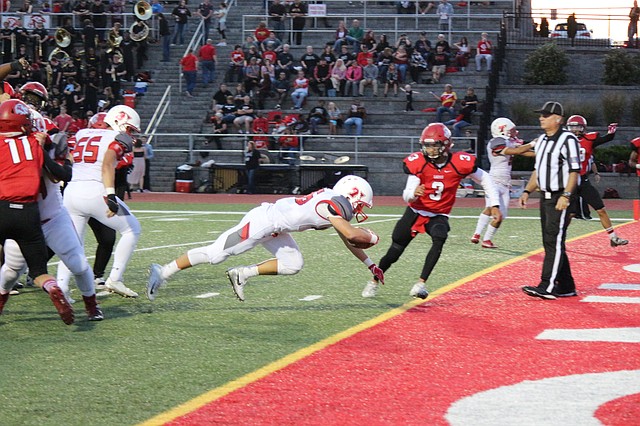 Stories this photo appears in:

The floodgates opened midway through the second quarter Friday for the Tonganoxie High football team. THS led Piper, 7-0, when Connor Searcy scored on a 9-yard run with 7:58 left before halftime. On the next play, Tonganoxie recovered the kickoff. Moments later, quarterback Mason Beach found Zac Morgan for a reception and Morgan ran it in for a 23-yard pass play.
October 26, 2017 9:14 a.m.

Tonganoxie High used a solid ground attack Friday to neutralize Atchison in a 49-0 district game victory. THS (7-0 overall, 4-0 Kaw Valley League and 1-0 district play) amassed 364 rushing yards — averaging just more than 8 yards per carry — in a game that the Chieftains controlled from the beginning. Dalton Bock again led the team in rushing with 251 yards on 25 carries. Korbin Riedel generated 81 yards on 14 carries and Justin Hand 32 yards on six carries. Riedel had three touchdowns and Bock two. Tonganoxie had 90 yards in the air, including two touchdowns.
October 20, 2017 2:02 p.m.

Tonganoxie football keeps rolling as district play gets ever closer. Along with a playoff berth, a conference title in the final year of Kaw Valley League could be icing on the cake. THS rolled Friday to a 37-3 road victory against KVL foe Lansing. The victory moved the Chieftains to 5-0 overall and 3-0 in the league, but some other happenings in the league made the league race more interesting.
October 5, 2017 12:41 p.m.