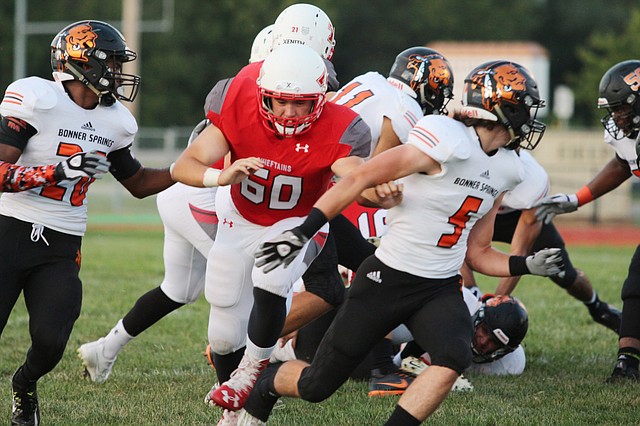 Stories this photo appears in:

The floodgates opened midway through the second quarter Friday for the Tonganoxie High football team. THS led Piper, 7-0, when Connor Searcy scored on a 9-yard run with 7:58 left before halftime. On the next play, Tonganoxie recovered the kickoff. Moments later, quarterback Mason Beach found Zac Morgan for a reception and Morgan ran it in for a 23-yard pass play.
October 21, 2017 12:43 a.m.

Last year, Tonganoxie was rolling heading into its game against Bonner Springs. Then BSHS tripped up the visiting Chieftains, 21-12, handing them their first loss of the season. Key injuries started to mount and THS went 2-4 after the 3-0 start. This year is different. Tonganoxie held on for a 28-18 victory Friday, improving to 4-0 on the season and 2-0 in the Kaw Valley League. Tonganoxie got on the board first and led, 14-6, after the first quarter. The teams traded touchdowns in the second quarter and didn't score in the third quarter. Tonganoxie outscored Bonner, 8-6, in the fourth quarter and held on for the victory. Bonner Springs fell to 2-2 with the loss.
September 27, 2017 9:49 a.m.