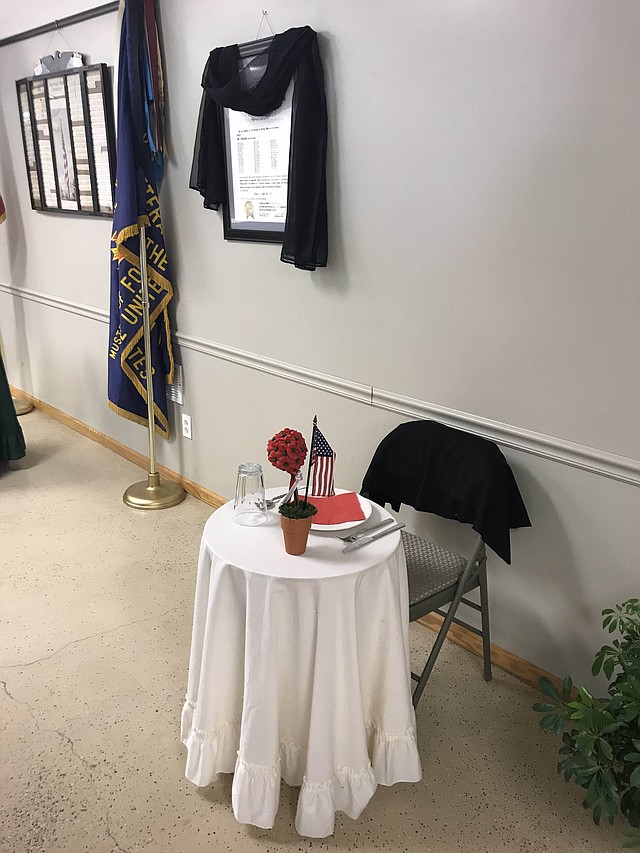 Black cloth is draped over the Tonganoxie VFW Post 9271 charter Thursday at the VFW Post Home in Tonganoxie. The black cloth and the set table were in honor of longtime VFW and community member Larry Meadows, who died July 21. The meal followed a service at the Tonganoxie Performing Arts Center and burial at Maple Grove Cemetery.
Stories this photo appears in:

The community paid tribute to Larry Meadows on Thursday with services at the Tonganoxie Performing Arts Center. Even in his final days, he was discussing ideas for community projects he would have liked to see become reality. Bill New spoke at Meadows' funeral and told of conversations they had in Meadows' final days. Meadows would like the city to have an archway as a welcoming entrance to the city. Ideally, Meadows wanted the archway at Fourth Street/Kansas Highway 16 and U.S. Highway 24-40. He also had hopes potentially for another at U.S. 24-40 and Main Street.