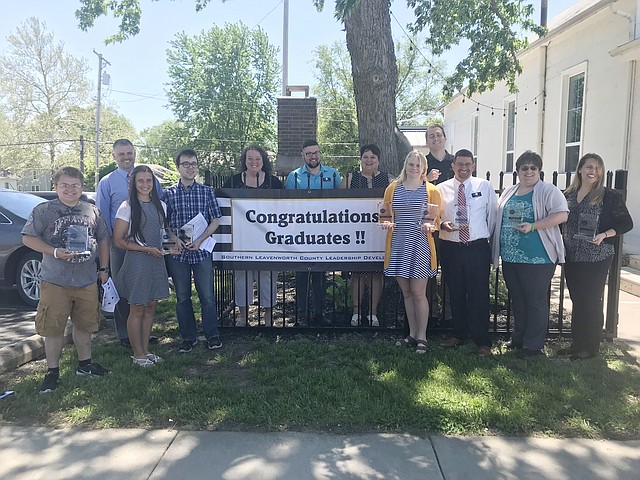 The 2018 graduating class of Southern Leavenworth County Leadership Development — now known as Leadership Southern Leavenworth County gathers after its graduation luncheon Wednesday, May 9, at Magdalenas Venue in Tonganoxie. Pictured, from left, are Jackson Willis, Jacob Dale, Sierra Staatz, Jake Waters, Tammie McCutchen, Michael Skaggs, Monica Gee, Leah Wiegers, Tom Reynolds, Brent Latham, Rachel Kelly and Jayma Zook.
Stories this photo appears in:

From high school seniors to former and current elected officials, Leadership Southern Leavenworth County has "graduated" many familiar faces with a wide range of backgrounds in this part of the county. Formerly known as Southern Leavenworth County Leadership Development, the community leadership program got its start in 1990. The organization, which is seeking applicants for the 2018-19 class, gathers monthly starting the second Wednesday in September. The class meets the second Wednesday of the month through April and then gathers for a graduation luncheon May 1 at Magdalenas in Tonganoxie.