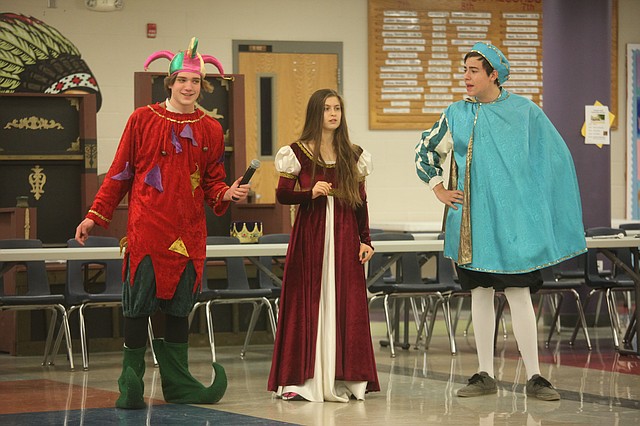 Tonganoxie High students, from left, Brendan Rogers, Lauren Lawson and Harrison York rehearse a scene Thursday for the Madrigal Feaste, which THS choir students put on Friday and Saturday at the Tonganoxie Middle School commons area.
Stories this photo appears in:

Longtime Madrigal Feaste organizer/volunteer Carolyn Day recalls the inaugural year for what has become a popular Tonganoxie tradition. Some 65 people attended the first Madrigal Feaste in 2002 for dinner and entertainment provided by 15 Chieftain Singers and 25 concert choir members. Roughly 120 Tonganoxie students performed and participated in this year's Madrigal Feaste for some 400 guests total Friday and Saturday. Day crunched the numbers over the weekend and found that 1,358 students have served right at 5,000 guests since the event's inception. The event "kind of gets in your blood," as Day described it.
December 12, 2018 7:20 a.m.