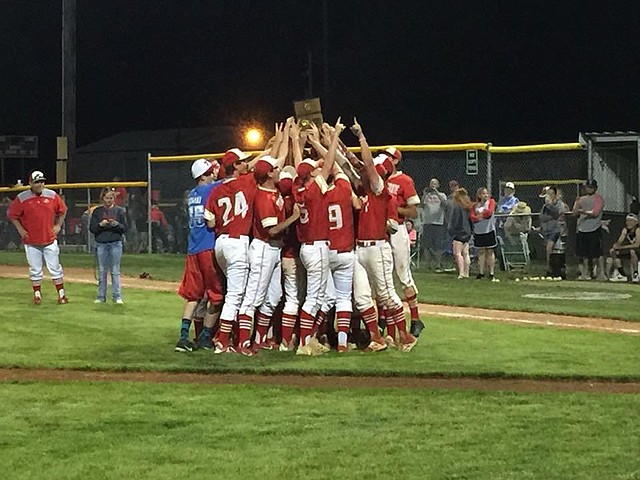 Tonganoxie High celebrates a Class 4A Division I regional title on its home field May 15, 2018, at the Leavenworth County Fairgrounds.
Stories this photo appears in:

The Tonganoxie High baseball team is coming off an exciting end to the season with a fourth-place finish at the Class 4A Division I state baseball tournament. Here's a closer look at this seaon's statistics, with rundown of team leaders in various categories. Statistics are listed with players' last names. Here's a full list of the state roster: Seniors Tanner Thoemke, Dylan Kleidosty, Chandler Hamman, Grayson Gilbert, Ty Gambril, Timothy Peel and Terry Thompson; juniors Matthew Perich, Ethan Basler, Bronson Cunningham, Ralphie Miller, Jess Collier, Austin Fisher, and Brett Ingerson; sophomores Jayden Wilson, Cooper Cunningham and Caden Woods; and freshman James Eaton.

Cinderella is wearing some shiny Tonganoxie High baseball cleats. THS, which entered Tuesday's Class 4A Division I regional with a 4-14 record and the No. 4 seed, knocked off No. 1 Atchison and then No. 2 Piper for its first state berth since 2014.