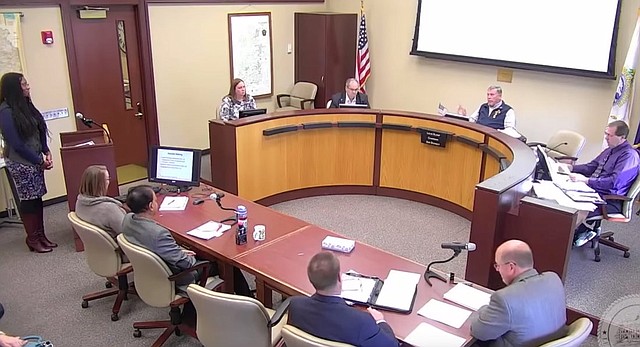 Leavenworth County Commissioner Louis Klemp, seated second from right in back, speaks to consulting firm representative Triveece Penelton, standing at far left, during a meeting Tuesday, Nov. 13, 2018.
Stories this photo appears in:

A Leavenworth County Commissioner whose comments about being part of a 'master race' drew national attention has resigned. Commissioner Louis Klemp was absent from Tuesday morning's regular meeting, but fellow Commissioners Doug Smith and Robert Holland announced that they approved his resignation at the beginning of the meeting. Klemp made the controversial remarks during the Nov. 13 regular commission meeting to Triveece Penelton, a black woman representing a firm conducting a study on the County Road 1 corridor south of Tonganoxie. "I don't want you to feel like I'm picking on you," Klemp said at the meeting. "Because we are part of the master race. You know you've got a gap in your teeth. You're the master race, don't ever forget that." Klemp, who is white, also has a gap in his teeth.
November 20, 2018 1:09 p.m.