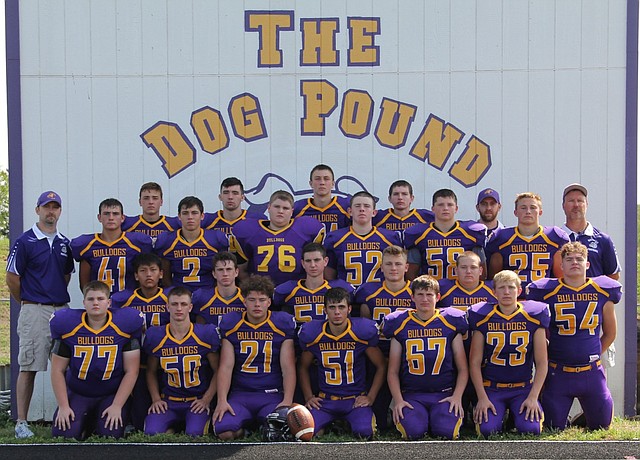 2018 McLouth High football team
Stories this photo appears in:

McLouth High has advanced in the Class 2A football playoffs. The Bulldogs went on the road and defeated Jayhawk Linn, 48-26, Thursday in Mound City. MHS now will face perennial power Silver Lake, which defeated Riverton (2-7), 66-0, Thursday at Silver Lake. The Eagles will bring a 9-0 record into next Friday's meeting with the Bulldogs at Silver Lake.
October 26, 2018 6:20 p.m.

McLouth will head to Mound City for a Class 2A opening round playoff game Friday. MHS (4-4) visits Jayhawk-Linn (6-2) in the first round. McLouth lost, 38-18, to Osage City on Friday at OCHS. The Indians finished the regular season 7-1 and was the Flint Hills League champion.
October 20, 2018 7:53 a.m.

The McLouth High football team should be a lock for the Class 2A playoffs. The top four teams in each six-team district advance to the playoffs. After rattling off three victories, MHS is 4-3 overall and 3-1 in district play. McLouth finishes up the regular season this coming Friday at Osage City (6-1 overall and 3-1 in district play). With a victory, MHS likely would be the second-place team in District 2, and Osage City would be the third-place team. An Osage City victory likely would switch those standings. During the winning streak, MHS defeated West Franklin (26-24), Oskaloosa (54-0) and then Central Heights (54-14) on Friday at Stan Braksick Sports Complex in McLouth.
October 13, 2018 2:05 a.m.