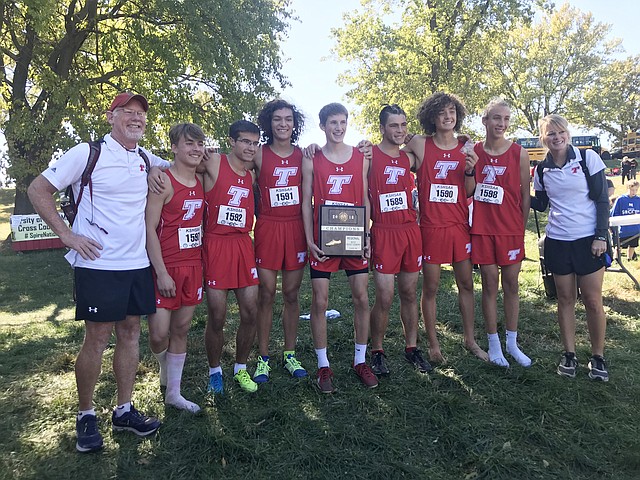 The Tonganoxie High boys cross country team is a Class 4A regional champion. The team won Saturday's postseason meet on the University of Saint Mary campus in Leavenworth. This marked the second straight year the boys team won its regional. Pictured, from left, is head coach John Tollefson, Jonah Stephen, Dylan Graham, Jakob Foley, Calvin Morgan, Josh Bosley, jake Edholm, Scotty Vick and assistant coach Jodie Smith.
Stories this photo appears in:

Tonganoxie High cross country has a state trophy in 2018. The boys team placed third at Saturday's Class 4A state cross country meet in Wamego. Tonganoxie scored 85 points, just behind second-place Towanda-Circle, which scored 81. Buhler won the meet with a low score of 47.
October 27, 2018 2:26 p.m.

Tonganoxie High School boys cross country lost a dual against Lansing in the season opener. The team has won every meet since then this year. That included Saturday's Class 4A regional on the University of Saint Mary campus in Leavenworth. The Lansing boys placed second in their loaded 5A race at USM, while the Tonganoxie High girls placed 4th at the regional. The girls just missed qualifying as a team, but Kristie Chambers will run as an individual qualifier after taking ninth place. Calvin Morgan led the THS boys with a fourth-place finish. With Saturday's victory on a perfect day of weather, THS has now won back-to-back boys regional titles. The boys team placed three of its seven runners in the Top 10.
October 24, 2018 8:24 a.m.