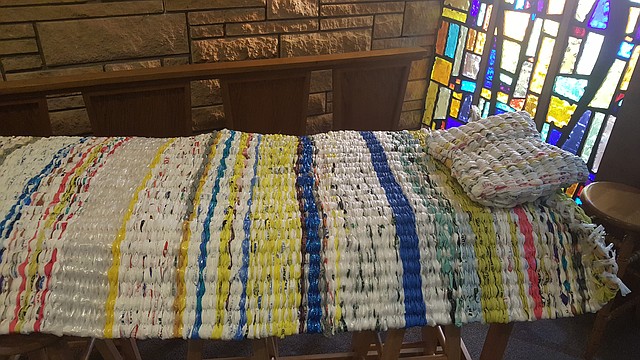 This bed mat and pillow are made entirely of repurposed plastic bags. Patti Szini gave a presentation on them at this month's Kuntry Klub meeting. Another group of volutneers in which Szini belongs to will continue to work on the mats and pillows twice a month at Tonganoxie United Methodist Church. The finished projects are then donated to the homeless.
Stories this photo appears in:

Barbara Kramer has been in Kuntry Klub for more than 65 years. She started in the group because her mother-in-law was a member. "I did the driving," Kramer quipped. "I brought her and have been here ever since." Kuntry Klub started as a local chapter of EHU, which, as Denise Rodgers puts it, "to me it's like adult 4-H," she said. Through the years, various members would go to sessions through Kansas State University Research and Extension. The members would then bring back that knowledge to the group. The current group still carries on the tradition of sharing new activities.