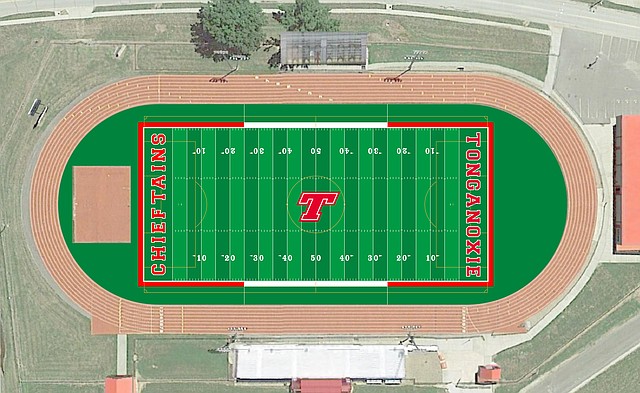 This is what the turf at Beatty Field could resemble if if enough money is raised to fund artificial turf at Tonganoxie High School.
Stories this photo appears in:

The surface at Beatty Field is always going to be greener come the fall in Tonganoxie. The Tonganoxie School Board voted, 6-0, to have artificial turf installed at Beatty Field. Board member Stephanie Shupe was absent. Tonganoxie USD 464 board members unanimously approved installing field turf at the stadium. The project is expected to start May 8.

An ambitious funding campaign that would bring artificial turf to Tonganoxie High School's Beatty Field already is gaining steam. Tonganoxie USD 464 School Board Member Kaija Baldock reported that $137,500 in pledges already have come in for field turf at THS. The total price tag for artificial turf is $700,000, $450,000 would come from donors. The school board has pledged up to $250,000 in capital outlay funds for the project if the anticipated donor money level is reached. If $250,000 is raised by March 1, per a recent school board vote, the project can proceed with turf being installed by August and ready for the 2019-20 school year. The donation levels include advertising on the field, banners at the stadium or other advertising opportunities at Beatty Field.
February 13, 2019 1:15 a.m.