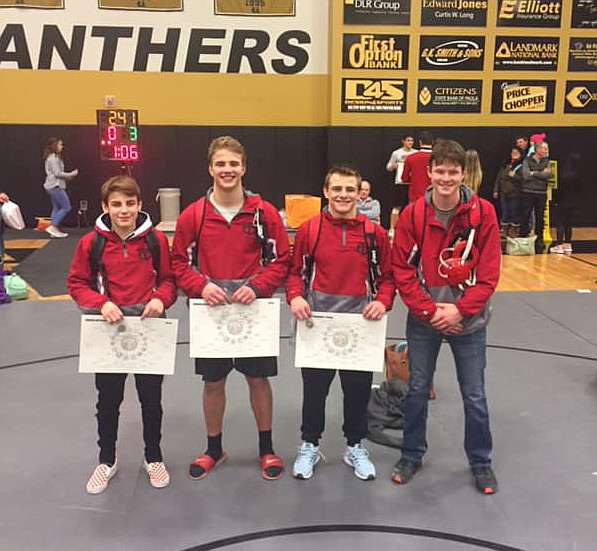 Tonganoxie High is headed to state with four in 2019. THS earned three gold medals and got a fourth-place finish Saturday at the Class 4A Paola Regional. Pictured from left, are Grayson Sonntag (first, 106-pound division), Connor Searcy (first, 195), Korbin Riedel (first, 152) and Jesse Collier (fourth, 160).
Stories this photo appears in:

Tonganoxie High is guaranteed three medals at this year's Class 4A State Wrestling Championships, with two grapplers still on pace for a shot at gold. Korbin Riedel (41-0) will wrestle in the title match for the second consecutive year at Tony's Pizza Events Center in Salina. The senior advanced to the finals Friday with a pin of Frotenac senior Brendan Ishimura (28-3) at the 2:36 mark. Riedel will be fresh for Saturday's title match, as his combined mat time (3 minutes, 41 seconds) is 19 seconds less than two periods of a match.
February 22, 2019 10:52 p.m.

A school record fell Saturday as Tonganoxie High wrestlers won three gold medals at the Class 4A Paola Regional. THS qualified four wrestlers overall for the 4A state tournament, which will be Friday and Saturday at the Tony's Pizza Events Center in Salina.
February 16, 2019 10:06 p.m.