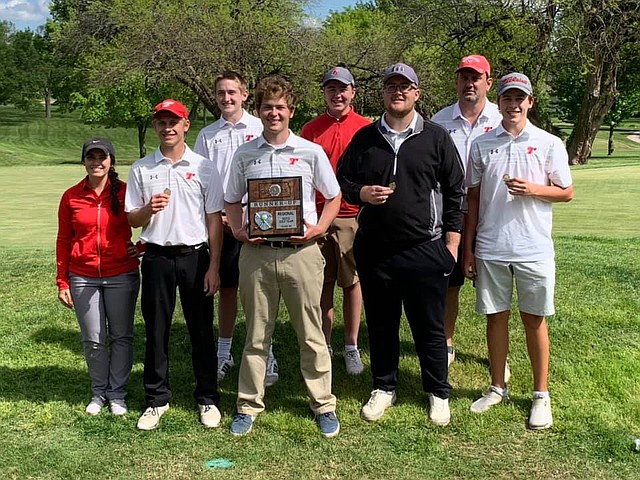 Tonganoxie High boys golf is heading to state as a team for the third consecutive year. THS placed second Monday at a Class 4A regional in Paola. The top three teams from each of the four regionals advance to state, which will be this coming Monday in Winfield. Pictured, front row, from left, are assistant coach Sydney Fraley, Jacob Hall, Adam DeMaranville, Dylan Aitkins and Andrew Willson; back row, from left, Jackson Vorbeck, Noah Skelley and coach Doug Sandburg.
Stories this photo appears in:

The Tonganoxie High boys golf team will finish what it started last week in competing at the state golf meet — but it will be on a course at the opposite end of the state. THS started to compete in the Class 4A state tournament May 20 in Winfield, but inclement weather postponed the meet. Officials originally postponed the event until this Tuesday in Winfield, but the event now will take place Wednesday in Dodge City.

Crowning state golf champions was delayed a day throughout the state. All seven state golf championships were postponed Monday. Tonganoxie golfers did get started Monday in the Class 4A state tournament in Winfield, but it got delayed. The tournament was set to resume at noon Tuesday, but it was postponed again due to inclement weather.

Tonganoxie High golf has a state berth yet again. The THS boys team finished as Class 4A regional runner-up for the third straight year, which means a state berth each time. The top three teams from each of the four regionals advance to state. The Chieftains finished the regional on Monday with a score of 349 at the Paola Country Club. Hayden was the regional champ with a low score of 332. Louisburg placed third (352), Ottawa fourth (363), Bishop Miege fifth (371) and Piper sixth (383).