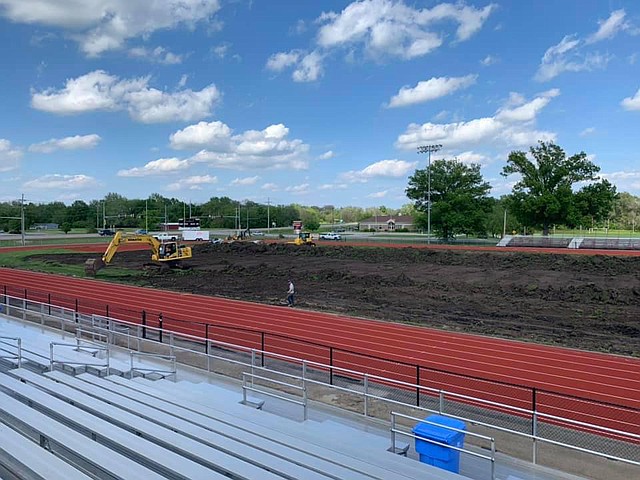 Work begins on installation of field turf at Beatty Field in Tonganoxie. The project started Monday and is expected to take 80 days at the most, weather permitting. Tonganoxie-area businesses, residents and alumni have pledged donations of nearly $300,000 so far to get the project up and going. The Turf 4 Tonganoxie comittee still is in the procss of getting pledges of just more than $100,000 for the project. The district also is contributing up to $250,000 to complement the private donations.
Stories this photo appears in:

Though rain halted progress on the turf project in recent weeks, better construction weather has helped the field turf project at Beatty Field. Superintendent Loren Feldkamp said the project should be back on schedule for completion at the end of July or early August. He said a layer of rock likely will be the next step for the project, likely later this week.

The grass surface is all but gone at Beatty Field. Crews started prep work for the field, which will have artificial turf installed in during the next 2-3 months. Tonganoxie USD 464 board members unanimously approved installing field turf at the stadium. The cost of the project, per the contract with ATG Sports out of Andover, is $655,500. A few items included in the agreement are an eight-year base warranty of all base work, rock and drainage under the turf which guarantees against soft spots, low spots and drainage problems, along with a grooming device and a no-change-orders guarantee. That means the bid includes all items necessary for the project. Any additional would come if the district added additional scope to the project.