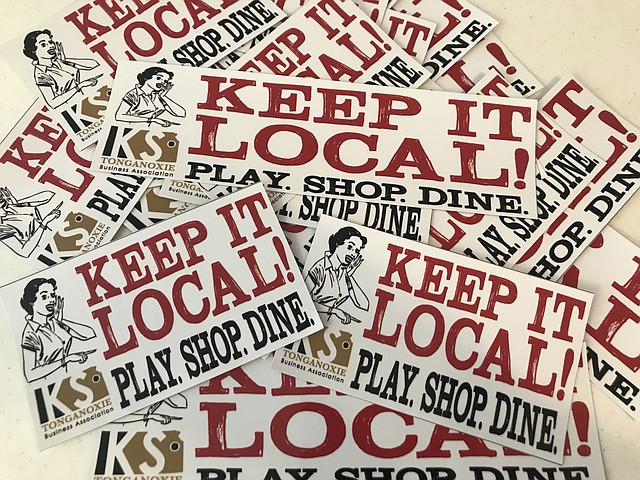 Tonganoxie Business Association unveils new stickers that encourage and remind residents to shop locally in Tonganoxie. TBA has made the stickers available for businesses and residents. For more information about how to get the stickers, email tonganoxiebusinessassociation@gmail.com.
Stories this photo appears in:

Plans are in the works for the second annual Tonganoxie Business Expo and Showcase. This year's event will be 4-7 p.m. Nov. 12 at Brunswick Ballroom, 427 E. Fourth St. in Tonganoxie. Last year, visitors enjoyed an evening of networking, live music, appetizers and prizes.
October 9, 2019 10:46 a.m.

Residents might notice new stickers and signs popping up around Tonganoxie promoting the local economy and encouraging folks to shop here. Tonganoxie Business Association unveiled 4x6 stickers and bumper stickers at its regular meeting May 17. TBA is trying to distribute them throughout the community and encourage people to put them in their businesses, on their vehicles and elsewhere.