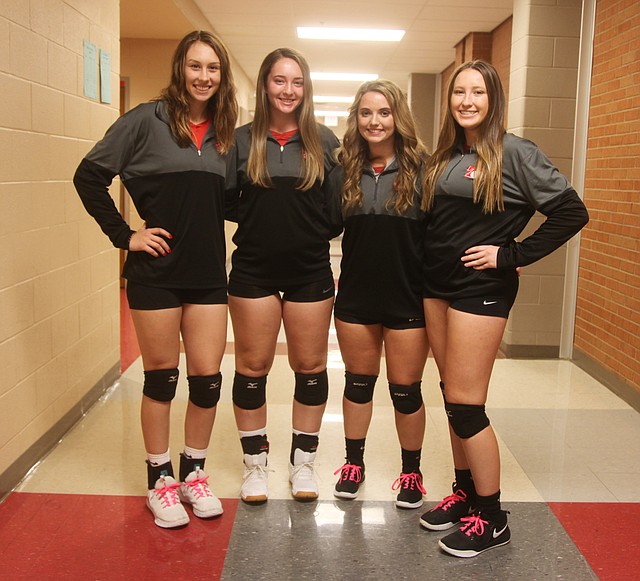 Tonganoxie High volleyball seniors on this year's varsity team are, from left, Lauren Gray, Erin Gallagher, Abby Marcoullier and Cadence Cole.
Stories this photo appears in:

Tonganoxie High volleyball wraps up the regular season Tuesday and soon will find out to which Class 4A substate the Chieftains will be traveling Saturday. THS was 13-19 heading into Monday's match at Atchison (26-12). Tonganoxie also played Tuesday against Eudora (23-13).
October 20, 2019 1:16 p.m.

Energy is a buzz word for Tonganoxie High volleyball. Seniors on this year's squad talk about it. Coach Chrissie Jeannin talks about it. It's the team's strength, they say. It's also a weakness when the team isn't consistent with said energy. Take Thursday's home match against Louisburg (17-10). Tonganoxie came out swinging in the first set before falling 25-18. The Wildcats then dominated in the second set, 25-8. Jeannin was proud of how the team responded and the energy it brought in that final set, another 25-18 decision, as LHS swept the match. "How they played in that third set is how we should play every set," Jeannin said. "When they play like that, they compete with teams."
October 9, 2019 1:33 a.m.