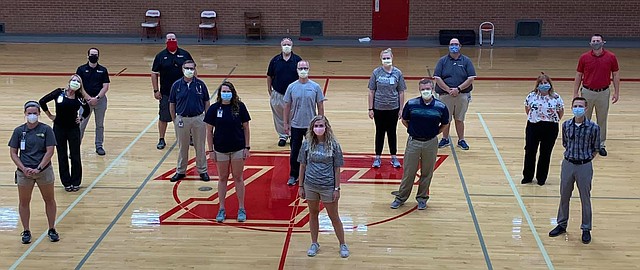 Local health care officials and others gather for a socially distant photo Wednesday, July 15, at the LMH Health Physicals Night at the Tonganoxie High gymnasium. There were 54 area student-athletes who participated in the offering. Students participating in Kansas State High School Activities Association activities must be cleared for activity each school year through a physical, whehter done at special offerings such as the physicals night or through appointments with their physicians and health-care providers.
Stories this photo appears in:

More than 50 Tonganoxie-area student-athletes took advantage of LMH Health's Physicals Night last week at the Tonganoxie High east gymnasium. LMH Health is partnering with local school districts to administer the physicals on designated nights at various schools. Kansas State High School Activities Association regulations require that students participating in KSHSAA activities undergo physicals in advance of participation each school year.