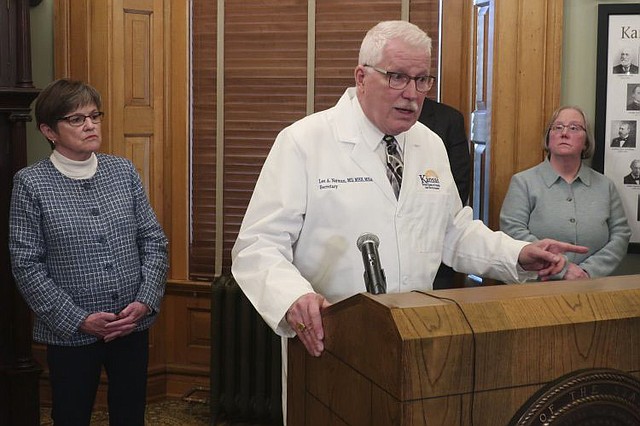 Kansas Health and Environment Secretary Lee Norman, center, answers questions about a COVID-19-related death of a man in his 70s in a Kansas City, Kan., area nursing home, the state's first fatality linked to the coronavirus, Thursday, March 12, 2020, at the Statehouse in Topeka, Kan. Watching are Gov. Laura Kelly, left, and Laura Howard, right, the state's secretary for aging and disability services. (AP Photo/John Hanna)
Stories this photo appears in:

Here's a daily look at COVID-19 results for March 29 from the Kansas Department of Health and Environment and Leavenworth County Health Department. Numbers in parentheses denote the count for the previous day.
March 30, 2020 11:17 a.m.

Kansas now has 44 known cases of COVID-19. Johnson County now has 23 cases, while Wyandotte County has nine. Leavenworth County, which reported its first cases earlier this week, still has two, according to results released Friday from the Kansas Department of Health and Environment.

The number of coronavirus cases in Kansas grew to six Friday with the diagnosis of the first case outside the Kansas City metropolitan area. The Kansas Department of Health and Environment said the new case is a man in his 70s from Butler County, east of Wichita. The man, who had traveled outside the U.S., is in isolation and health officials are reaching out to people who might have had contact with him.