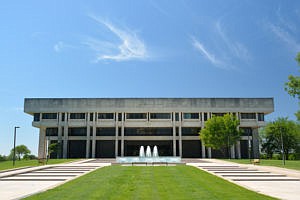 Kansas Judicial Center, 301 SW 10th Ave., Topeka
Stories this photo appears in:

All district and appellate courts in Kansas are to conduct only emergency operations "until further order," the state Supreme Court ruled Wednesday, and "no action will be dismissed for lack of prosecution." The directive comes amid growing concerns about the coronavirus disease. Only jury trials that are currently underway are an exception, but no other criminal or civil trials will be scheduled until further notice, according to a Wednesday news release about the order.

By close of business Monday, all Kansas district courts must have a plan to keep critical functions running, according to a Thursday order from the Kansas Supreme Court. If a Kansas district court is forced to close because of an infectious disease outbreak and that closure is approved by one of the justices, the day will count as a "legal holiday" for the purposes of statutes of limitations, according to the order.