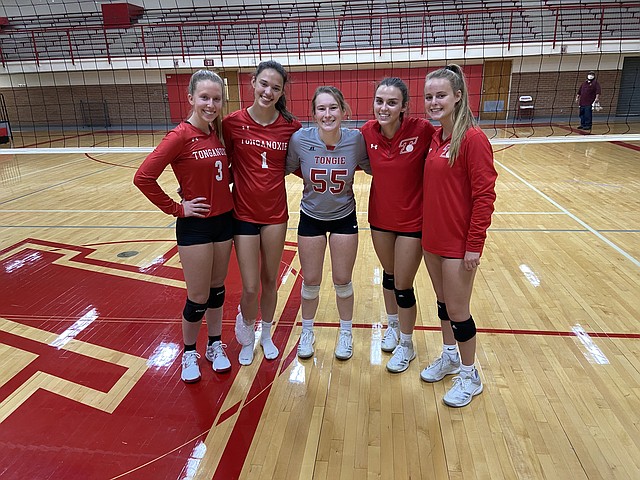 Tonganoxie High volleyball seniors for the 2020 season gather after their final home match Tuesday at THS. Pictured, from left, are Emilie Crowley, Tessa Calovich, Lexi Ziolo, Frankie Downing and Kiernyn Dale. Tonganoxie finished the season Saturday at the Eudora Substate after losing to eventual substate champion Bishop Miege.
Stories this photo appears in:

The Tonganoxie High volleyball season ended Saturday with a loss to eventual Class 4A substate champion Bishop Miege. Tonganoxie, the No. 5 seed in the five-team Eudora Substate, fell to Bishop Miege, 25-9, 25-10. Miege then defeated No. 1 Louisburg, 25-16, 25-15 and No. 2 Eudora, 25-16, 25-15. BMHS improved to 16-11 after winning the substate. THS finished the year at 8-22. Seniors on this year's squad were Tessa Calovich, Emilie Crowley, Kiernyn Dale, Frankie Downing and Lexi Ziolo.
October 24, 2020 9:07 p.m.