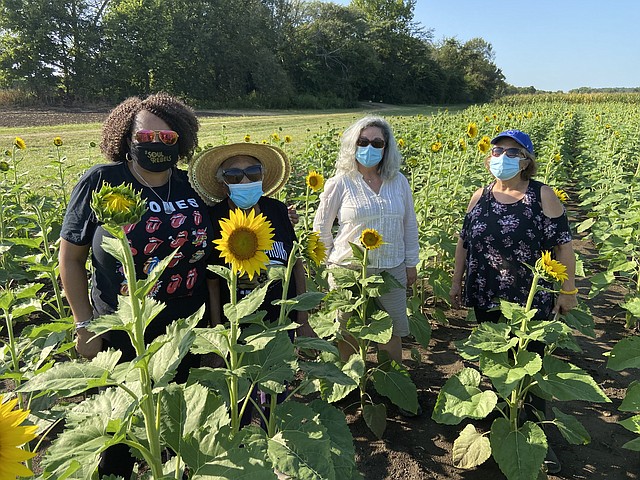 The sunflower fields are starting to show their blooms at Grinter Farms. A few folks were at the popular spot southwest of Tonganoxie on Saturday afternoon, including some visitors who struck up a conversation and then took photos together. Pictured from left, are Tara Woodard, Houston, Genevieve Benson, Kirkville, Texas, Lucy Gonzalez, Liberty, Mo., and Carmen Segarra, Lenexa. Woodard said she and her grandmother, Genevieve, whom she calls "Granny Cakes," will be 93 in December. They have been with family in Leavenworth. Segarra lives in the Kansas City area, but came there from Puerto Rico, while Gonzales came to the Kansas City area from Colombia. Gonzales and Segarra are area friends who wanted to check out the famed sunflower fields. They plan to come back today or this weekend when the fields are expected to be in their full glory of yelllow and black sunflower heads. They shared plenty of conversation and laughs with Woodard and Benson after happening to meet for the first time at the fields. For more about what to expect at the sunflower fields this year, visit the Grinter Farms Facebook page.
Stories this photo appears in:
Kris Grinter jokingly encouraged those attending the Tonganoxie Business Association meeting on Aug. 6 to get out and wash their vehicles. As the myth goes, it seems to rain for some after going through the trouble of washing their cars. With Grinter Farms gearing up for another sunflower season, Kris said the multitude of sunflower fields could use some precipitation.
August 18, 2021 10:45 p.m.