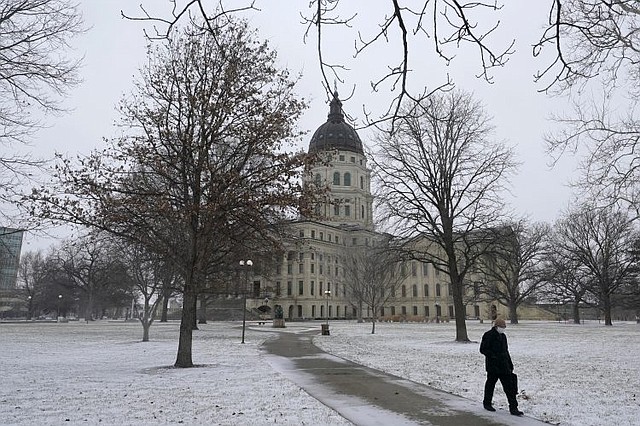 A person walks across the Statehouse grounds in Topeka on Friday, Jan. 15, 2021.
Stories this photo appears in:

Advocates for older Kansans in assisted living facilities are pushing for legislation that would allow them to appeal to the state if a facility evicts them. The House Children and Seniors Committee plans to have a hearing Thursday on the measure, The Topeka Capital-Journal reports. It would allow older Kansans who've been involuntarily discharged from an adult residential care facility to appeal to the Kansas Department for Aging and Disability Services.

Kansas lawmakers have been moving quickly on legislation that would extend the state's COVID-19 emergency declaration before it expires on Jan. 26. "I've not seen, and I don't think we've seen before, a bill that moved with such expediency," said Sen. David Haley, D-Kansas City. "I dare say it is abnormal and it lends a certain question as to how fairly it can be deliberated and considered. This is a very crucial issue in terms of the public health."

Four nurses at a rural health department in Kansas are refusing to administer any COVID-19 vaccines, citing the fast development and production of the shots. Coffey County Public Health Administrator Lindsay Payer said the nurses made their own decisions and expressed their concerns one by one. She called the vaccine documents concerning.