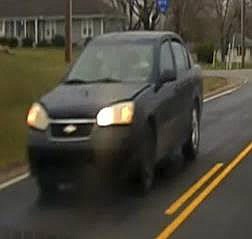 Tonganoxie police say that a suspect left a residence near Tonganoxie in this vehicle after attempting to burglarize the residence Wednesday, March 24, 2021, about a half-mile north of Tonganoxie.
Stories this photo appears in:

A vehicle was reported stolen Tuesday in Tonganoxie and additional vehicles Wednesday elsewhere in Leavenworrth County. Tonganoxie police said Wednesday that a truck had been stolen Tuesday from a residence's driveway near FastTrax on the east side of town.