Inspired by tradition
Kansas' agricultural history comes to life at 49th annual McLouth Threshing Bee
Antique threshing machines were made to be powered by steam engines.
But this year at the 49th annual McLouth Threshing Bee, the machines were powered by John Deere tractors, rather than by huge steam engines belching black smoke.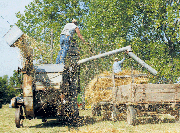 That's because of regulations requiring boilers to be inspected and certified before being used in public. Though spectators may have attended hoping to see the steam engines at work, it's better to be safe than sorry. In July 2001 at the Medina County Fair in Ohio, an antique steam engine exploded, killing five people and injuring nearly 50 others.
Gayle McDonald, a boiler inspector from Holton, helped with the threshing been this past weekend.
"Last year we lost the big one," McDonald said of one of the nearly century-old steam engines. "We had a leak in it. All of them have to be tested before they can be run."
It's not cheap to build a new boiler for a steam engine.
"You're looking at $30,000," McDonald said.
But fellow steam engine buff, 19-year-old Matt Petty, Meriden, said it's worth it.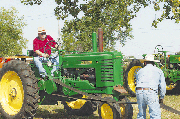 "It will last for 100 years," Petty said.
While the big engines didn't run at this year's bee, a couple of smaller engines did.
One of those was a 1968 model replica of a Case 65, owned by Petty. The Case 65s were manufactured from about 1915 to 1925, Petty said, adding he bought his on e-Bay five years ago.
McDonald, who is 61, said steam engine hobbyists tend to be his age or older, or much younger, such as Petty, who at 15 became licensed to operate a steam engine.
"I was legal to run a steam engine in Kansas before I was legal to drive a car on the road," Petty said with a grin.
Coming for the weekend
Among the estimated 3,500 paying visitors at this year's threshing bee were two rural Parsons residents, Harley Shields and Ralph Pearce.
The two attend four or five tractor and steam engine shows a year, arriving in a camper which is their home for the weekend.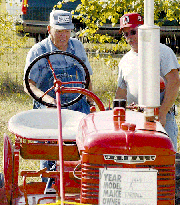 Pearce, who is 69, grew up around the old steam engines. He said generally, one person in the area owned a steam engine -- a sort of early-day custom cutter.
"He traveled around the neighborhood," Pearce said. "It would take a month to do the harvest."
Bill Robinson Jr., Nathan Gardner, Ryan Bailey and Neva Gardner started the threshing at 10 a.m. Friday.
Robinson, who designs airplanes for Boeing in Wichita, sat in the seat of a 1950 John Deere tractor. Long belts connected a pulley on the tractor to the threshing machine.
After adjustments were made, the team saw the results of their labor -- with a lazy groan the threshing machine came to life, spilling golden grains of wheat into a waiting trailer and sending pieces of straw skyward to lazily drift to the ground.
"It worked just as efficiently as a steam tractor," Robinson said of the fleet of antique John Deere tractors. "It's a lot cheaper to operate."
Robinson, whose father, Bill Robinson Sr., has been active in the threshing bee since the 1950s, spends a couple of weeks in McLouth every August, and rarely, if ever, has missed the bee.
Though the tractors worked fine this year, Robinson looks forward to the return of the steamers.
"I like doing steam a whole lot better," Robinson said.
When he and his father travel through the threshing bee grounds, they do it in style.
Robinson points to a silver-painted 1929 Model A, which his father rebuilt in 1966. He hops in the driver's seat, and with a twist of a key and a turn of the choke the old car sputters to a start and chugs up the hill.
New plans for next year
Darin Edmonds led this year's threshing bee. As president, he kept an eye on the entire show.
The largest attendance, Edmonds said, was on Sunday night, for the hot rod truck and tractor pull.
He said, for Sunday night's event, the bleachers were about 80 percent filled. He had expected a slightly higher turnout.
"I think the biggest factor was between the heat Sunday afternoon and the storm that rolled through," said the 31-year-old Edmonds. "Between those two things, I think that kind of hurt our crowd a little bit."
Those kinds of events are expensive to bring to the bee.
"It costs between $10,000 and $12,000 to get them here," Edmonds said.
But it all worked out, and Edmonds said the three-day threshing bee, with ticket sales, and other sales, came out ahead. As of Monday, he didn't have exact figures.
Another popular event each year, he said, is the Kiwanis beer garden.
"I think they profited on that between $1,000 and $1,500," Edmonds said.
Flea market type booths, which sell a variety of goods from antiques to new, remain a bargain for vendors, Edmonds said, noting the bee charges $40 for a space for the weekend.
Next year, it's possible threshing bee will be flashier than usual.
"We're looking into trying to get a carnival so we can have more stuff for the kids to do," Edmonds said. "A lot of kids these days don't care much about old tractors. They care more about games and rides and stuff like that."
And, if that pans out, there's plenty of room for a carnival. Edmonds said the threshing bee grounds encompasses about 70 acres.