Committee makes plans to revitalize downtown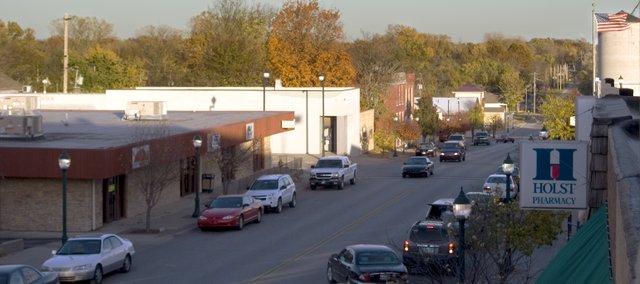 It started last year with a rash of stores either closing or moving away from downtown. That made City Council members, residents and business owners get together to find a way to stop downtown from "bleeding."
Now four months and four presentations later it will be up to a five-person committee to choose what tools the city will need to fix what's ailing Fourth Street.
"Our downtown right now is really in a state of change because of the growth around us," said Council President Jason Ward, who headed last Wednesday's special Tonganoxie City Council Meeting. "A lot of the staple stores that we've had downtown have felt those pressures."
The committee will be comprised of a Tonganoxie City Council member, a member from the Tonganoxie Chamber of Commerce, a city staff person, a local business owner and a member of the Tonganoxie Planning Commission.
The decision to form the committee came after an hour and a half meeting with Jeff Zacharakis from the Kansas State University Department of Educational Leadership, and Center for Engagement and Community Development. Zacharakis' proposal was the fourth in a series of proposals geared toward commercial revitalization in the city.
In November, the city heard a proposal from Buxton, a Texas-based data-mining firm, to use consumer-spending data to pair Tonganoxie with retailers that would probably build on the highway. The price for Buxton's help is $50,000.
In January, members of the Kansas Main Street Program spoke to the city about what they could offer in terms of development for downtown only. The cost of the main street program would vary because Tonganoxie would need to hire a staff person to help run the program.
Earlier this month, the council and members from the community listened to a pitch from Bucher, Willis & Ratliff Corporation, the city's planning firm, about their two-phased proposal that would plan for development on U.S. 24-40, County Road 1 and downtown. That proposal came with at $17,600 price tag for the whole package.
K-State's $7,050 proposal would Develop a community vision. Their goal would be to get as many people in the community, from business owners to local youth, involved in developing that vision. The CECD would first establish a steering committee that would include key stakeholders in the community. That committee would then organize a town meeting that would focus on issues important to the residents and to increase the community awareness of what is happening. But many of the 10 people who attended the meeting felt part of the problem was a general sense of apathy about the meetings.
"How do we get these people energized to come to these meetings?" Council member Tom Putthoff asked.
Chris Donnelly thought that it came from a sense of business owners thinking what can the city do for me instead of what they could do for the city.
This fact was apparent when it came time to choosing the representatives of the five-man committee that will make a recommendation to the council on which proposals to use. Of the handful of people at Wednesday's meeting even fewer have attended all four meetings. The five-man committee will present the council with their recommendation at the April 21 council meeting.