Boston duo traveling coast-to-coast for cause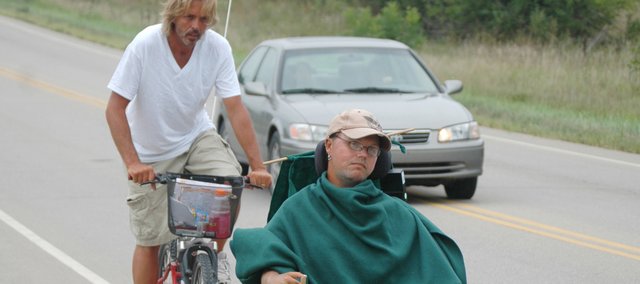 Matt Eddy, in a motorized wheelchair, and Ron Steenbruggen, on a bike, left New England on June 30 to embark on a mission across the United States. Day 52 of that assignment brought them right through Tonganoxie on Wednesday, Aug. 20 as they headed south on 24-40 near midday.
The duo is taking a long trip to Long Beach, Calif., to raise awareness about housing and institutionalization issues that face disabled adults like Eddy, a 31-year-old man from Lynn, Mass., with Duchenne muscular dystrophy.
Eddy brainstormed the trip a while back.
"I came up with it like four years ago," Eddy said while stopping briefly in Tonganoxie's outskirts. "It's just a different way to see the country."
Although it has proven to be a scenic voyage - he and Steenbruggen, his caretaker, average about 30-40 miles a day in ideal conditions - the journey became more necessity than vacation when Eddy's bank foreclosed on his apartment.
Now the trek serves as a cause as Eddy and Steenbruggen spread the word about their nonprofit organization, Matt's Place, and attempt to raise money to build a prototype apartment community in the Boston area where adults with disabilities can live.
"It seemed the right time to do it for the charity," Eddy said.
"We planned it in two weeks," Steenbruggen said. "Everything was falling apart."
If they can raise the $3.5 million it will take to build the prototype community, Eddy's recent struggles might prove worthwhile.
Although he loved the independence of his apartment before he lost it, his home was far from utopia.
Eddy learned about what was called an "accessible apartment" in a low-income housing project in Lynn and moved in. But Steenbruggen, who met Eddy in a rehab center, said the apartment lacked the kind of accessibility Eddy required.
"There's bars in the tub and the doorways are wider," the caretaker said of the place's few perks. "That doesn't work for him."
Eddy's travel companion said he needs a roll-in shower and a way to stay on his ventilator as well. What's more, the apartment was on the eighth floor and there was often elevator trouble as well as non-sealed windows that let snow in during winter months. The two worked on renovating the place until the foreclosure.
That's when the pair decided to take action, not just for Eddy, but for people like him who enjoy living independently.
"We figured we needed to do something really big to get somebody's attention and get the word out there," said Steenbruggen, executive director of Matt's Place, "because not only does institutionalization take away all of your freedoms, but it costs the taxpayers like four times more than it would to keep them at home."
Steenbruggen said he hoped Eddy's story would inspire people.
"It's kind of like a silent, hidden thing," he said. "These disabled people are hidden away and nobody hears from them. They don't have a way to speak unless somebody gives them a way to speak."
Eddy, too, hopes others will join him in giving a voice to the voiceless. That is why he is more than happy to slowly traverse the country's roads and highways and sleep in campgrounds or even parking lots each night when he and his roadside companion meet up with two other team members in a van that carries the equipment and other necessities that make the excursion possible.
"It's been pretty good," Eddy said of the trip. "It's tough getting through the cities."
Steenbruggen said busy metropolitan commuters tend to give them a hard time.
"People don't know what we're doing and they yell for us to get out of the way," he said.
But some places have been better than others.
"Chicago was cool, Kansas City was cool," Eddy said.
Added Steenbruggen: "Every state seems to have its own little personality. We just hit Kansas and we've had nice people so far.
They don't yet know when they will arrive in Long Beach, but they are spreading the word about Matt's Place everywhere they go.
For more information on Matt's Place and Eddy, go to officialmattsplace.org or log on to You Tube and search for "Roll'n Across America."