Catcher at the fry
Sacred Heart again offers annual fish feeds during Lent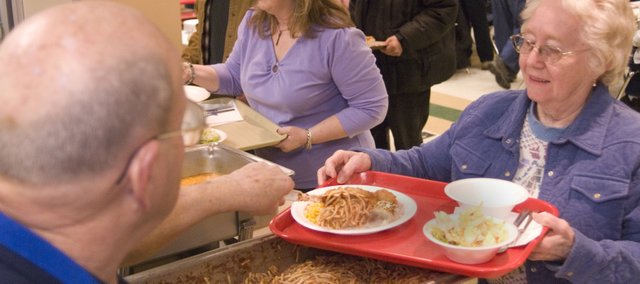 For the last six years you could find Bill Hashman manning the deep fryer during the annual Knights of Columbus Fish Fry on Fridays during Lent at Sacred Heart Catholic Church.
He keeps an ever-vigilant eye on the battered chunks of fish, giving them the perfect amount of care to prevent them from clumping together.
"It's about half science and half art," said the aptly named Fry Daddy jokingly.
The Knights of Columbus have been playing host to the Lenten dinners for 11 years, drawing in hungry visitors from surrounding cities and counties.
Friday was the third week this year they've come to try some of Hashman's fried fish or pieces of a baked fish along with other savory side dishes and desserts.
Even those who might not prefer seafood manage to get a slice of pizza or a plate of spaghetti.
"It was great," said Connie O'Brien, a member of the church. "I had everything."
The fish fry is the Knight's biggest fundraiser during the year. Each Wednesday for six weeks some of the group members purchase enough fish to feed the approximate 280 people that come in each week. Thursday nights, the Knights spend time cleaning the fish and getting it ready for Friday when they will spend most of the morning and early afternoon getting the food ready for the 4 p.m. opening.
"We just have a good time doing it," said Paul Haverkamp, KOC member. "If it ever gets to the point where we are not having fun we probably won't do it any more, but I hope it keeps going for at least 50 more years."
The weather and an increase in the number of churches having their own fish fries has kept the number of people coming to Sacred Heart at about the same as last year. The increased price of fish has also affected the money raised this year, but KOC member Russ Kimberlin said he thought the group would still be able to reach it's $8,000 goal. The money goes to efforts such as scholarships to seminary schools.
Kimberlin also knows that the KOC members still have an ace up their sleeves.
On March 14, the Knights will be preparing for the last Fish Fry Friday. Of course the last night also means they will be adding shrimp to the menu. Kimberlin said shrimp night is always a popular night that really draws in a lot of people.
While shrimp night is a crowd favorite, the amount of shrimp doesn't compare to the 1,700 pounds of fish the Knights cooked during last year's six-week run.
But which type of fish is preferred on Friday?
"There are really two different palettes," Harshman said. "We probably serve twice as much fried fish as the baked, but the people who enjoy the baked really do like the baked and think it's so delicious."