Racing toward a healthy lifestyle
New
TES

program targets fighting obesity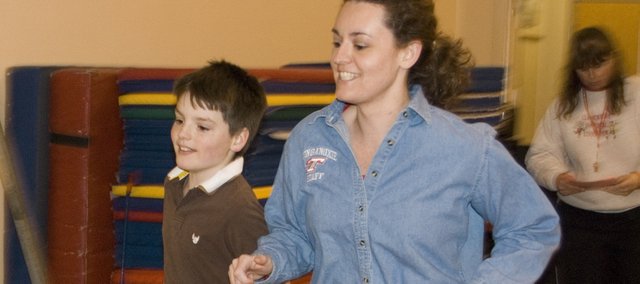 Ursula Kissinger came back from the 2007 Kansas Association of Health, Physical Education, Recreation and Dance convention with two things: A drive to help fight childhood obesity and a box of red shoelaces.
To fight childhood obesity, Kissinger would not only need to recruit the help of her fourth-grade students for the Red Shoelace Project, but she would also need their parents' help to be good role models and to make sure the children are living more active lives.
"It's a great way to socialize and spend time together while you find out how your day went." said Kissinger, Tonganoxie Elementary School physical education instructor, about the program.
On Thursday, Kissinger handed out 18 pairs of shoelaces to TES students as a way of reminding them to stay active at home as well as in school and to make better choices about physical activity.
The program began with a slideshow presentation that gave statistics on how the number of adults in the United States categorized as obese has skyrocketed in the last decade and how the trend trickles down to children.
During the presentation, Kissinger said that she had previously asked kids if they knew what obesity was. She said many students said they had heard the word, many didn't know what it meant.
"I didn't want to bore them with statistics, but the parent's needed to know this was a big problem," Kissinger said.
After the initial side show, both children and parents were invited to the TES gym floor to participate in some games that revolved around making exercise fun. In between the games, Kissinger would give parents information on how the simplest activities, such as doing sit-ups during the commercial break of your favorite TV show, could make a difference.
The parents were asked to participate to whatever extent they wanted to, but most of the 15 parents spent the whole hour on the gym floor. Even TES principal Tammie George and Superintendent Richard Erickson broke a sweat with the fourth-graders.
"Mrs. Kissinger has worked very hard to encourage kids to stay fit and practice good nutrition habits," George said. "I give the kudos to her."
Tammy Thompson came with her son Paul. She said she was happy and surprised to see so many parents participating.
"I thought it was awesome," Thompson said. "My son was excited about it the whole week. He called me at work to make sure I would be home on time."
The Red Shoelace Program: Fighting Childhood Obesity was a program developed by Joella Mehrhof, a physical education professor at Emporia State University to put children's inactivity problems in the forefront of people's minds.
Mehrhof said Kansas was the first state to try the program, which has a goal of bringing awareness if not fight against what she calls the "obesity epidemic." She chose the month of February because it was the American Heart Association's national heart month.
"In every school there is probably about 15 to 20 percent, maybe even more, of children that are categorized as obese." Mehrhof said. "They take away physical education programs and they teach them how to sit in front of a computer all day. We are just contributing to it."
The pilot program is targeted at fourth-graders, but Mehrhof said of the 50 schools participating in the program some of them are small enough to include more grades.
Once all of the schools have had the program, Mehrhof will send out surveys to get some feedback and see if the program will continue for next year. Kissinger said she was happy with the turnout despite the slick road conditions that night and hopes to be able to continue the program in the future.