Chieftains measure tournament success with gold medals
When teams measure success in the Tonganoxie Invitational as the THS girls do, it's tough to be fully satisfied with anything less than a tournament victory.
This year will represent the fifth year the girls tournament has been added to the Tonganoxie Invitational, which is in its 49th season.
The Chieftains have been in the Tonganoxie Invitational finals each year the girls tournament has taken place. THS has won two tournament championships, in 2005 and last year, when THS defeated Lansing in the finals.
In the two years Tonganoxie didn't win the tournament, Jeff West won in 2004 and Silver Lake won in 2006.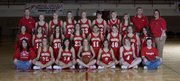 "We obviously want to win it," said Tonganoxie coach Randy Kraft, who has a 101-27 record in six seasons at THS. "It's our own tournament. We want to win it, but we really don't think much about it. It's more about who we have coming up. We play Rossville Tuesday, so that's kind of our focus right now."
THS faced Rossville at 6 p.m. Tuesday, but the game continued past The Mirror's press time.
In the event of a Tonganoxie victory, THS would face the Silver Lake-De Soto winner (UPDATE) at 6 p.m. Friday for the rights to advance to the tournament finals.
The loser of the Tonganoxie-Rossville game would play at 6 p.m. Thursday.
Tonganoxie enters the tournament as the top-ranked team at 8-2. The Chieftains have already defeated three teams in this year's invitational: Lansing (52-42), Eudora (47-43) and De Soto (54-19).
THS starts four seniors: guard Christy Weller, guard/forward Liz Baska, and forwards Shannon Carlin and Tracie Hileman. Junior point guard Chrissie Jeannin rounds out the THS starting lineup.
Baska and Carlin lead the Chieftains' scoring attack and average in double figures.
Junior forward Ronnie Grizzle and senior guard Cara Carlisle see regular minutes off the bench.
"The progress we've been making is really good," Kraft said. "We started a little weak after Christmas, but the last couple games, we've started to get things turned around."
Tonganoxie has won four straight games since losing to St. Teresa's Academy (Mo.) on Dec. 14.
Kraft said he had no problem with the Chieftains having a bulls-eye on their backs as the favorites to win the tournament.
"It's tough to get on top, but it's even tougher to stay on top," Kraft said. "Everybody's going to try to bring their best shot. That's what we tell the kids. It doesn't matter who we're playing. We have to bring it every night, because we never know who's going to be bringing it that night and have it going for them."