Church draws 300 for bingo night
Dedee Cook was used to helping run the annual Sacred Heart Catholic Church fundraiser.
This year she decided to participate and try her luck.
Did it pay off? Bingo.
"I love playing bingo," Cook said. "I got jewelry from Africa and a $10 gift certificate to the Tonganoxie Rec Commission."
More than 300 people attended Saturday's annual bingo game at the church. While no figure was available yet, organizers said the night typically brings in $3,000 to $5,000 annually for the church's youth groups.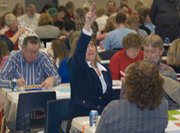 Shari Petree, who organized the bingo night, said after seven years organizers have gotten the coordination down to a fine art. With the help of the youth group members, the night always runs smoothly.
"The kids love to be able to work at something to help earn money to earn camp trips," Petree said. "It gives them a sense of accomplishment to be able to do the work."
About 200 prizes worth anywhere from $5 to $100 were handed out Saturday night.
The bingo cage started spinning, and the bingo balls started dropping around 7 p.m. and didn't stop until 10 p.m. In between bingo games, raffle numbers were drawn with even more prizes awarded.
The event is usually a sell out, even during bad weather.
"I think people like to get out after Christmas," said Father Mark Goldasich, pastor at Sacred Heart. "People just get cabin fever, and they are ready to get out and have a little fun.
Goldasich also believes people like to come to support the youth group and because they have a high likelihood of winning something - at least as long as they don't sit next to Goldasich, who has had a losing streak for a few years.
"People who sat with me last year begged me not to sit at their table," he joked.