De Soto tries to get back on winning track
The final buzzer in the De Soto girls' 52-34 loss at Eudora Friday marked the fifth consecutive loss for the Wildcats. The team hasn't won a game in nearly a month - not since a Dec. 14 victory against Atchison.
Spirits aren't down, however, De Soto coach Dwight Spencer said. The team lost most of its best players from a year ago. The Wildcats (2-8) start three sophomores.
"With a young team like this, our goal from day one was to get better every game," Spencer said. "Would we like to be winning? Sure, but look at the teams we're losing to. It's not like we're losing to a bunch of cupcakes."
Barbara Hartz, a German foreign exchange student, has emerged as one of the team's most flexible athletes and leads the team in scoring. At 5-foot-11 she's the team's tallest player and also one of its best ball handlers.
She led the team with 14 points against Eudora, scoring six in the first quarter by ably driving through the lane. Her production helped the Wildcats stay in the game through the first half.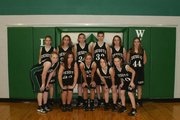 Sophomore guards Tami Crow and Kelsey Fisher came in as the team's most experienced returning players, both earning significant minutes in their freshman seasons. Fisher had 13 points in a December win against Maranatha and both have started to heat up from three-point range recently.
The team's biggest surprise early this season has been sophomore Katie Williams.
Williams, a 5-9 forward, played sparingly as a freshman, but has been side-by-side with Hartz in scoring this season. She had 15 in the win against Atchison and 12 in a loss to Anderson County.
Turnovers have crippled the Wildcats at times, but Spencer said that aspect was just like the rest of his team - something he expects to improve as the year goes on.
"That's our youth," Spencer said. "We have a lot of young kids and sometimes they just want to get the ball out of their hands.
"As they get older, they'll get physically stronger and as they get stronger they'll get more confident and won't be so ready to get rid of the ball. We just have to play our hind ends off right now and just battle."