Eudora's only loss of year against Tonganoxie
The Eudora girls basketball team has gotten off to a fast start this year, sitting on 7-1 record and coming off a lopsided win over De Soto.
The one loss the Cardinals have incurred came at the hands of Tonganoxie. The Chieftians defeated the Cardinals, 47-43, in the championship game of Paola Girls Basketball Invitational.
The matchup could be seen as a bitter rivalry, especially in the eyes of Eudora. The Chieftains ended the Cardinals' season a year ago in the championship game of the sub-state tournament.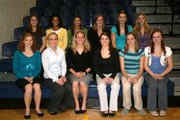 Eudora graduated just one player, post Allison Braden, from last year's squad, and has been greatly benefited by the addition of senior Nikki Snider.
Snider sat out her junior season despite being recognized as an all-conference honorable mention as a sophomore.
The Cardinals have displayed a very balanced attack in the new season and have been able to depend on three players to produce big points. Snider, fellow senior Emily Ballock and junior Haley Epperson have taken turns, each leading the team in scoring on varying nights.
"That's one of the best things about this team," Eudora coach Ryan Luke said. "On any given night it could be a different girl. That's how good the balance on this team is."
Eudora has displayed a tough press this year, playing fast, getting turnovers and converting them into fast-break points.
The only real challenge the Cardinals have faced this season, other than Tonganoxie, was on Jan. 8, when they handed Silver Lake a 34-33 loss on a last-second jumper from Epperson.
Outside of that game, Eudora has won its games by an average of 20 points.