Lions improve to 7-3, set goal for invitational championship
At this time last year, the Lansing High girls basketball team limped into the Tonganoxie Invitational Tournament with a 2-6 record.
A first-round victory over Jeff West was the springboard for the Lions' run to the tournament finals, where they ultimately lost to Tonganoxie, 50-37, in a contest that was tight for three quarters.
The run to the finals was the brightest point in a 9-12 campaign, but LHS hopes the 2008 tournament is simply another step in a season-long push toward the Class 5A state tournament.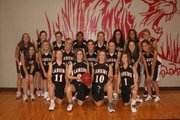 This year's Lions enter the Tonganoxie Invitational riding a three-game winning streak. They're undefeated in the new year, and enter the tournament at 6-3.
Lansing defeated Jeff West on Monday, 47-39, in the first round of the tournament to improve to 7-3.
"I'm anticipating a chance to play Tonganoxie again," Lansing coach Keith Andrews said before the tournament. "It'd be great to be in the finals. It'd be a great atmosphere down there. We've got to worry about getting those first two in the win column. Hopefully we'll get out to a good start against Jeff West."
Jeff West enters the tournament with a 4-3 record. It snapped a two-game losing streak Friday with a 48-38 victory over Sabetha.
Andrews said he expected Jeff West to be physical and aggressive.
"Jeff West is going to be very athletic," he said. "I talked to a couple coaches (Friday), and they said they're very athletic. They'll press full-court, man-to-man. I'm confident our guards can handle that - I'm hoping so. I think we just need to attack the basket and go from there."
Attacking has been an effective offensive strategy for LHS in recent games. After a slow start to the season, the Lions have averaged 58 points per game during their past three contests. That includes a 62-30 victory Friday at Turner.
Junior Brittney Lang is Lansing's top scoring threat with an 11.4-point average. Senior Katie Nietzke averages 8.9 points per game, sophomore Amy Briggs averages 7.5 and junior Alexis Ellis carries a 6.4 average.
Monday's victory put Lansing in the semifinals game, which will take place at 3 p.m. Friday.
LHS will face the winner of Eudora vs. Atchison. That game took place at 3 p.m. Tuesday, but the game ran past The Mirror's press time.