Senior guard leading De Soto resurgence
Finding the source of the 5-5 De Soto boys basketball team's recent turn-around wouldn't seem hard. Andre Linzy, the Wildcats' explosive senior guard, scored 28 points in Friday's double-overtime win against Eudora.
Linzy - an all-Frontier League selection a year ago despite his team's three-win season - is averaging 17.6 points per game. He does it every way - scoring by capping a drive to the bucket with an acrobatic maneuver, by pulling up in the lane for a short jumper or by carving out a few feet near the three-point line with a devastating crossover.
His only weakness has been fouls. He drew three charges and fouled out a 55-49 loss to Gardner Edgerton, missing virtually the entire second half.
He barely drew a whistle against Eudora, however, something he said he's focusing on for the rest of the season.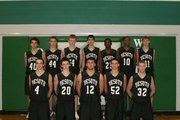 But Linzy isn't the only reason De Soto has already surpassed last season's win total of three.
That has been thanks to both transfer student Jamel Townsend and improved play from a cast of experienced Wildcats.
Townsend, a 6-foot-1 forward, leads the team in rebounding and has been a big help in scoring as well. He has hit double digits in each of the team's last five games, scoring 19 in a Dec. 18 win against Tonganoxie.
Senior forward Erik Hill, meanwhile, has started to find his rhythm. The team's leader in rebounding and second-leading scorer from a year ago has averaged nearly 12 points a game since the team returned from winter break.
The additional help for Linzy has been the key to De Soto's season, coach Jim Bonar said.
"We just don't melt when one or two of our main guys aren't in," Bonar said. "There's a lot more confidence between each other. Rather than one guy being confident that he can do it, there's more confidence in all the teammates."