TES

students experience science through Body Walk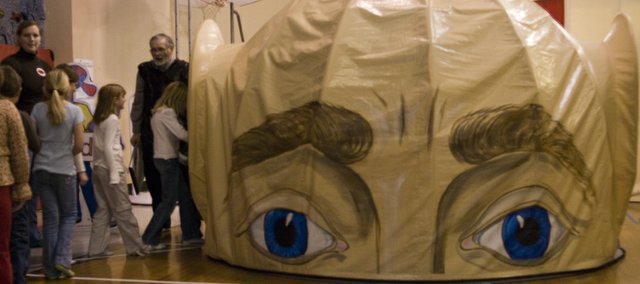 Students at the Tonganoxie Elementary School took a trip through the human body last week.
But these students didn't need the help of a shrinking ray or a special submarine for their fantastic voyage.
"The students have been so excited," Stephanie Hebert, TES nurse. "Ever since we got back from Christmas break they've been asking, 'When is the body walk, when is the body walk?'"
For a third time, the Body Walk, sponsored by the Child Nutrition and Wellness, Kansas State Department of Education, has come to TES to teach kids about good nutrition, exercise and avoiding tobacco.
The 40-foot exhibit starts inside the brain, where students are taught about making the right choices in nutrition and in exercise, or as the Body Walk's mascot, the Power Panther, says, "Eat smart and play hard."
After coming out of the brain, children are taught about the new U.S. Department of Agriculture food pyramid and they each were given a card that represented a piece of food in food group. The card also told the students what kind of nutritional value the food had.
After being given the cards, students made their way into the mouth. There they learned about proper hygiene and the dangers of tobacco use. Afterwards they worked their way through the stomach and small intestine, where they learned about the digestive system. From there they entered the blood stream, which took them to the heart where they learned about how exercise makes the heart stronger and how fatty foods can clog arteries.
In the lungs, the students were told about the dangers of smoking. For this display, volunteers showed the students healthy lung tissue, and lung tissue from a smoker.
The lungs were 8-year-old Elizabeth Mill's favorite exhibit.
"They showed you the real lungs," she said. "It was gross."
After the lungs the students were taught about the skeletal and muscular system, then the skin and finally the students worked their way out of the body and into a pathway that reviewed everything they had just learned.
Judy Salyer, Body Walk manager, said it was important for children to learn about bettering their health.
"Obesity is a major health concern," Salyer said. "There is too much sugar in our diets and the kids are really suffering. There's not nearly as much physical activity. Let's face it: Kids are on the computer or watching TV. They just don't get out and climb trees and play outside like they used to."