Voters say no to council's quorum change
Voters say no to council's quorum change
Turnout in Tuesday's special election was by no means a record.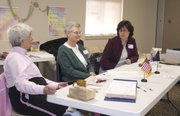 But with 143 Tonganoxie residents voting "no" to 33 voting "yes" to change the size of the City Council's quorum, the landslide victory made opponents quite happy.
"Tomorrow we will have a celebration," said Velda Roberts, a former council member who, with the help of Roger and Phyllis Shilling, filed a petition to bring Charter Ordinance 17 to a vote.
Opponents of the quorum change said the issue really was about council members being able to meet privately about city business, which brought their objection.
The Kansas Open Meetings Act declares that any meeting of a "majority of a quorum" of a public body must be open to the public. Currently, the council has a three-member quorum, which, in effect, bars two council members from getting together privately to discuss city business.
In August, the council, using home-rule powers granted under the Kansas Constitution, approved a charter ordinance setting its quorum at four members, which would have allowed private meetings about city business among two council members.
Council member Tom Putthoff, who initiated increasing the quorum size, said he wasn't put off by 81.25 percent opposing his idea.
"It was an idea and it got voted down," he said. "That's what America is all about, I don't have any hard feelings."
Linda Scheer, Leavenworth County clerk, said the vote won't be declared official until the Board of Canvassers meets to verify the results on Friday.