Web exclusive: Eudora sophomore guard takes lead role
Expectations weren't high for the Eudora boys basketball team entering the season after losing its top eight scorers from a year ago.
Thanks to the many questions that lingered when the season started, the squad is happy with its current 4-4 record.
The Cardinals are coming off a 68-60 double-overtime loss to De Soto, but hope to continue to develop as a team in the Tonganoxie Invitational.
What remains from last year's 11-10 team are a few seniors who came into the season as role players, namely guard Aaron Shockley and post player Dylan Rust.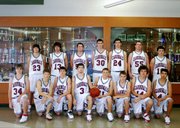 The leading Cardinal scorer for all but one game this year has been sophomore Justin Ballock, a 6-foot-1 sophomore guard, who is equally talented at shooting from the perimeter and penetrating to the basket.
Ballock is coming off yet another impressive performance, again leading the team with 17 points against De Soto.
Another key underclassman who contributes is sophomore point guard Evan Cleveland. Although a role player at this point, he remains a player to be watched as he handles the ball a lot for Eudora and will counted on to not turn the ball over.
Rust scored 14 against Baldwin and 13 against De Soto. Still, the team continues to rely most upon its talented sophomores.
The only game in which the two sophomores struggled was a 46-38 loss to Baldwin. Ballock was limited four points in that game, the only game he hasn't been in double figures.
"They are sophomores and they're going to have games like that, but it's taken them until game six to have one of those games, so I've been pleasantly surprised at how well those young kids have done," coach Kyle Deterding said. "I'm hoping we're going to take some big strides here in the next couple of months."