Post 41 finally feeling confident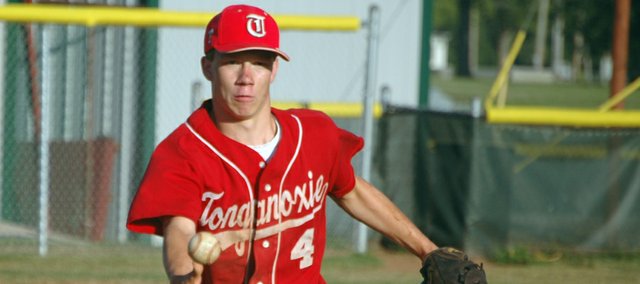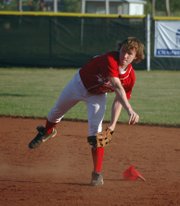 It took awhile - eight games to be exact - but the Tonganoxie Post 41 baseball players finally got some wins under their belts this week with back-to-back victories Sunday and Monday nights at Leavenworth County Fairgrounds.
Tonganoxie opened the season 0-7 but put its first notch in the win column Sunday with an 11-9 defeat of Geiger Ready-Mix, and followed that up with a 5-1 victory against the Easton Lions on Monday.
Coach Pat Bailey said it was nice for the players to get that 0-for-the-season monkey off their backs, especially considering they lost the first half of the Sunday twinbill with Geiger, 18-17.
The coach said until recently the team had looked "great" at practice. Game time? Not so much. However, that was before Post 41's defense and bats started clicking.
"It's turned around," Bailey said.
That much was clear Monday night. Even though Tonganoxie (2-8) lost the second game of the doubleheader, 10-9, to end the two-game upswing, it looked solid in the first game, thanks in large part to the play of starting pitcher Brett Bailes.
The right-hander worked a no-hitter through five innings and finished the outing with a complete game, allowing three hits, one run and striking out four.
Bailes said he was aware he had a no-hitter going.
"I knew, I just didn't want somebody to say something and jinx it," he said, adding that no one broke the unwritten baseball rule by talking about the feat.
Bailey said he expected that kind of performance, the best by a Post 41 hurler to date this season, from Bailes.
"Coming into this year, I figured he was going to be our ace," the coach said.
Bailes helped himself out on offense, too. Batting at the bottom of Tonganoxie's lineup, he went 2-for-2 with a run and a stolen base and was the first batter in the game to get a hit in the bottom of the third.
Without a base hit, Post 41 took a 2-0 lead in the bottom of the second. Jeremy Wagner led off with a walk, and Grant Ebbert was hit by a pitch. Jon Harris then grounded out to advance the runners. Wagner scored on a balk that advanced Ebbert to third base and he scored on a Kyle Newton groundout.
Tonganoxie plated three more in the third to make things comfortable. Bailes blooped a single to center field to start things off. James Bailey then drew a base on balls. Ryan Stockman drove both runners in when he pounded a double to left-center, giving Post 41 a 4-0 lead. Wagner capped the inning by driving in Stockman with a single to center field.
In the 10-9 loss to the Lions, Post 41 kept its offense going. Harris was 2-for-3 with a double and a triple. Wagner also went 2-for-3, as did Ebbert. Corey Klinkenburg drove in two runs with a double.
Bailes said the team is feeling much better about its chances than it was at the start of the year.
"I see a lot more confidence in ourselves. We're coming up with the plays - coming up big when we need it," he said.
His coach echoed those thoughts.
"They're just starting to believe in themselves," Bailey said. "I've been telling them all along they're good enough. It's just a matter of them believing and executing."
Now that the good feelings are flowing, Bailey said the next step is stringing together more wins and, eventually, playing .500 baseball. He said he wants the team playing its best at the end of the season.
Bailes said the team would follow the coach's lead.
"We're determined to turn this team around and we're doing a pretty good job of it," Bailes said. "It's a hard hill to climb, but we can climb it."
The team began its ascent on Sunday with its first victory of the season. Pat Gallagher pitched a complete game in the win and scored three runs. Ebbert hit a three-run homer in the fifth inning to spark the win, and Wagner, who Bailey said has been "ripping the ball" of late, went 3-for-3 at the plate.
"We're looking better all the time," Bailey said.